Eben, Micromax, Texet: Obscure Brands Claim Outsize Share of Tablet Market
By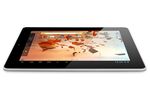 Unless you've been browsing through computer shops in Shanghai, Bangalore, or Moscow recently, chances are you've never heard of tablet brands Eben, Micromax, or Texet. They may not come equipped with an eye-popping Retina Display or zippy Intel chip sets, but these tablets are part of a surging consumer electronics segment—supercheap tablets with surprisingly strong regional appeal—that are expected to claim one-quarter of the global tablet market this year.
"Collectively, they're doing significant business in volume terms, driven by price points that in some cases are as low as $80 a tablet, enough to claim the No. 2 or 3 position in the local market," says Simon Bryant, senior market analyst at U.K.-based FutureSource Consulting, a consumer-technology market analysis firm. "The biggest sellers from this group last year shipped half a million units."
Many of these models come with sharp, 7-inch color displays and connect to packed app stores. They're chunkier than the latest iPad, but they're not going to break after a few swipes. Still, they're local for a reason. They may sell well in, say, Bangalore, but not have the marketing or distribution heft to sell meaningful volumes abroad.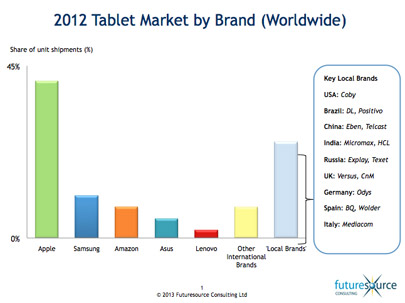 Bryant says of the 155 million tablets that shipped globally a year ago, the so-called local brands stood out, accounting for 25 percent, or about 38 million units, of the global market. That's well below Apple's 40 percent market share, but more than double Samsung's share of 11 percent and triple that of Amazon's 8 percent, as the chart shows. "This year we expect this segment to grow again—once again driven by price," he says.
This time when the cheap local brands report their quarter, their sales will amount to one-fourth of a total tablet market that will expand to 250 million units, a roughly 70 percent increase, shipped globally by yearend, FutureSource forecasts.
Individually, these brands, which typically run on Google's Android operating system, may not pose much of a competitive threat. As an aggregate segment of the market, they're stealing share from low-end models and may push late arrivers such as Hewlett-Packard and Acer to consider introducing full-feature tablets at ever-lower price points, Bryant concludes.
By Christmas, PC companies will offer entry-level tablets for about $200 or less, he predicts. And as component costs—screens, chips, and memory—continue to fall, we could see the first full-featured sub-$100 tablets making debuts in most markets in 2014. That would be good news for educators looking to change the nature of classroom learning.
The margins are terrible at the low end of the market, and yet niche brands such as Micromax have managed to clean up. Micromax, which sells one model for the equivalent of $85, claims 20 percent of the fast-growing Indian tablet market. If you want a tablet for quickie e-mails and a bit of Web browsing, these low-end models can ably handle those tasks.
Before it's here, it's on the Bloomberg Terminal.
LEARN MORE