The Potential Problem With Personalized Google Maps? We May Never Know What We're Not Seeing
Google is promising a million maps for a million people with its redesign. But can it avoid confining us to customized urban bubbles?
By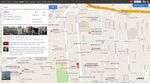 Google has crammed a dozen notable updates into the revamped Google Maps that was unveiled this week at the tech giant's annual I/O developer conference. The new platform, currently invite-only, seamlessly folds the search function directly onto the map, eliminating the two-column display (search and directions on the left, maps on the right) that will soon come to seem quaint. The new map integrates air-travel routes, and Google Earth's 3D cityscapes, and better passage through Street View. And our favorite addition – a vaguely familiar one – allows users for the first time to simultaneously compare routes between any two locations by car, public transit, walking or cycling.
In fact, ask the new Google Maps to spit out directions to a coffee shop or a friend's house just a few blocks away, and it will assume, by default, that you want to walk there.
But the real game-changer in the new application has less to do with the aesthetic experience of using it, or the sheer power of its continuous toggling between 2D maps, real-life photos and satellite imagery. Google promises with this new product to build a customizable map for everyone, something that will be infinitely, constantly evolving according to your tastes and your clicks and your search history. As Google preens on its Lat/Long blog:
What if we told you that during your lifetime, Google could create millions of custom maps...each one just for you? 

In the past, such a notion would have been unbelievable: a map was just a map, and you got the same one for New York City, whether you were searching for the Empire State Building or the coffee shop down the street. What if, instead, you had a map that's unique to you, always adapting to the task you want to perform right this minute?
Customization is seemingly the future of everything (soon, we'll get customizable mobile coupons for nearby stores as we walk down the street, and customizable gluten-free tablet menus in restaurants, and customizable homes that know how cool we like it on a summer day). But, in some contexts, customization also comes at a cost. An algorithm that knows you too well does a terrible job of telling you things you don't already know.
This was the premise behind Eli Pariser's "filter bubble," which put a name to that weird experience we've all had in the Internet age of Googling for information only to receive a suspiciously circumscribed set of results. If you're a conspiracy wing-nut, for instance, the Internet is quite likely to serve up links and stories and message boards that reinforce your wing-nut point of view because search engines and advertisers learn about you as you move through cyber space, adjusting and narrowing your path as you go. In the process, tons of stuff gets shoved outside of your blinders.
Customizable maps now raise the possibility of the filter bubble in our physical lives. Google is touting "a mapping experience that helps you find places you never would have thought to search for." But it will do this using what it knows from your search history, the recommendations of your Google+ friends, or the expertise of review sites like Zagat. The more you use the map, Google says, the more helpful it will become, and in a way Google is acknowledging and embracing the inherent subjectivity of all maps.
But doesn't this really mean that you'll find "places you never would have thought to search for" that are remarkably similar to the places you've already been?
We already know that the inequality of information online is rendering some real-world people and places virtually invisible. Will customizable maps further exacerbate this new twist on inequality? Google is obviously betting on the strategy because plenty of people like to get salon recommendations from their friends, or because a lot of us want to know where Zagat thinks we can find the best burrito in town. The trick is this: Can customizable maps leverage personalized recommendations without concealing from view businesses and people and restaurants that would broaden our experience of the places where we live and travel?
Imagine if you could ask Google to construct you a map based not on your own profile, but customized by, say, the preferences of people your parents' age, or the Chinese-language search results of unrelated people looking for dim sum. The greatest asset of our cities is their diversity. Can we build customizable maps that remember that, even as they try to steer us toward places where they suspect we'd be happy?