Taco Bell Adds 'Waffle Taco' in Battle for Breakfast Dollars
by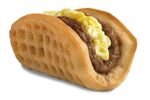 A cheesy Taco Bell gordita sounds good at 1 a.m., but first thing before work? No way. Taco Bell might rule the late-night "fourth meal" hours, but it's eager to get into the breakfast business, too. A few weeks ago, it started testing a new product—the 89-cent Waffle Taco—as a breakfast item in a handful of Southern California restaurants.
The Waffle Taco's self-explanatory: It's scrambled eggs and a sausage patty folded into a soft waffle, like a taco. You can drizzle it with syrup, too, which is served separately. "We're pleased with the initial reaction from our customers and if the Waffle Taco does well in testing, we'll roll it out to all our restaurants that serve breakfast," spokesman Rob Poetsch wrote in an e-mail.
Taco Bell launched a new breakfast menu with items like egg burritos and hash browns in 750 stores early last year as other chains also vied for more morning business. Market research firm Technomic found that in the first few months of 2013, breakfast sandwiches appeared 8.1 percent more often on menus at limited-service restaurants.
Last month McDonald's rolled out its new Egg White Delight McMuffin—a lower-calorie, lower-fat version of the regular Egg McMuffin. Chief Executive Officer Don Thompson even said recently that he "has looked at breakfast across the day," though there are logistical complications with that, including how to manage valuable grill space for burgers when the lunch hour kicks in.
Breakfast offers an opportunity to get customers into restaurants during the morning rush hours—restaurants can only sell so many burgers during lunch and dinner. Yet trying to win over the breakfast crowd is not easy. Wendy's recently announced that after a roughly five-year effort, it will reduce the number of restaurants offering breakfast to 300 to 400 (at its recent height, about 850 restaurants were serving breakfast). The chain struggled to offer breakfast in 1985 but retreated shortly after as the items were not convenient to eat on the go, or took too long to make.
There's another lesson to be learned, from Burger King: Don't ignore the coffee. Breakfast is roughly 12 percent of the chain's business in the U.S. and Canada, and "One thing we noticed when we spoke with our consumers is that we had breakfast, but what we didn't have is we didn't have the right coffee blend," Rahul Ketkar, the company's head of investor relations, said during a recent conference. So Burger King started serving Seattle's Best coffee, the same brand that's on Taco Bell's breakfast menu.
"It's one of the harder day parts to win because you have to get consumers to come in and try the new coffee, try the new breakfast sandwiches. And honestly, it's trying to teach your consumer to operate in the mornings and try something a little different," Ketkar said. Taco Bell for breakfast would certainly qualify as different.
Before it's here, it's on the Bloomberg Terminal.
LEARN MORE