Protesters Don't Scare Barbie, but Innovation Should
By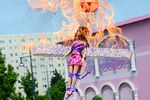 With her popularity waning, Barbie hit the road this week on a global campaign to burnish her brand. On her first stop, in Berlin, her life-size Dreamhouse attraction was promptly picketed by an "Occupy" movement protesting the "marketing strategies that allocate a limited gender role to young girls."
Tough stuff, but the 54-year-old beach babe has been an easy target for feminists for decades. Or, as her parent, Mattel, put it, Barbie always has been and always will be "a lightning rod for cultural conversation."
Even now that she has more than 100 professions, including astronaut and chief executive, Barbie's still a PR pro. As things heated up in Berlin this week, she took to Twitter:
(Jamie Dimon, take note.)
Barbie, however, has bigger problems than topless German protesters who claim she's "oversexualized." She's getting her butt kicked by her corporate little sisters, specifically Mattel's historically focused American Girl dolls and its Monster High gang, a line of toys that are literally supposed to be the spawn of monsters.
The Monster dolls are just as skinny as Barbie and their clothes are just as skimpy, but they have fangs, stitches, and ghostly complexions that are easier to picture in front of a computer than cruising down a California freeway in a convertible Corvette.
Barbie sales slid by 3 percent worldwide last year. At the same time, the doll division that includes Monster High posted a 57 percent revenue surge. American Girl Brands, meanwhile, saw an 8 percent sales bump.
Barbie is still the world's No. 1 doll brand, but the Monster High lineup has quickly become No. 2. Mattel is managing to compete with itself over and over again, and it's winning with both net gains and greater diversity. Despite the Barbie slump, the company's revenue and profit last year were at their highest points in at least two decades, and its profit margin was a solid 12 percent.
Mattel has promised its big Dreamhouse tour will turn things around for Barbie. It's buttressing the campaign with classic tie-ins, including three full-length animated movies and a bunch of TV ad buys, and a more out-there partnership with Trulia (TRLA) that will highlight Barbie's move to new digs in the fall.
Still, it's not hard to imagine Barbie as the Kodak film of the toy world, or Teddy Ruxpin. Protesters won't kill her—in fact, at this point they're probably helping—but other toys could slowly push her out of the spotlight. None of this is lost on investors who play in the toy business. Mattel's last conference call was peppered with questions about "cannibalization." Barbie might be mauled by a bunch of monsters, and that wouldn't necessarily be a bad thing for Mattel.
Before it's here, it's on the Bloomberg Terminal.
LEARN MORE