Oxford Business Students Get a New Way to Finance Their MBAs
By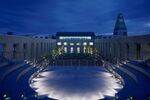 The University of Oxford's Saïd Business School will begin offering loans to international students through an exclusive pilot program with Banco Santander that starts next week. The program is designed to help students who may not have access to other financing options at a time when some banks have stopped lending to MBA candidates from outside the U.K., says Saïd Dean Peter Tufano.
Improving loan access for international students has been a priority for Tufano since he came to Saïd from Harvard Business School in 2011. That loan activity affects the school more so than other top MBA programs because its student body is over 90 percent international and just 15 percent of the current MBA class received scholarships. The new loan program begins May 22, according to Sarah Webster, a spokesperson for Santander.
As some lenders have pulled back, Saïd has gotten creative in how it helps students finance their tuition. In recent years the school began working with Prodigy Finance, a company that raises money for loans from a school's alumni and offers those funders a competitive return.
Prodigy's footprint grew as MBA lending through banks such as HSBC, NatWest , and Barclays slowed, the company's Chief Executive Officer Cameron Stevens told Bloomberg Businessweek last year. That concept has also caught on in the U.S., where SoFi and CommonBond are making alumni-sourced loans to MBA candidates at HBS, the University of Pennsylvania's Wharton School, MIT's Sloan School of Management, Stanford's Graduate School of Business, and the University of Michigan's Ross School of Business.
Investors find the loan pools attractive because MBA candidates at selective schools are considered more creditworthy: Less than 1.5 percent of those graduates from Stanford, Harvard, Penn, and Northwestern defaulted on their student loans in 2010, according to the Department of Education.
INSEAD, the French business school, became the first B-school to partner with London-based Prodigy back in 2007 and the company has since arranged more than $28 million in loans.
Join the discussion on the Bloomberg Businessweek Business School Forum, visit us on Facebook, and follow @BWbschools on Twitter.