Ocado Surges After Morrison Partnership on Online Grocery
Paul Jarvis and Gabi Thesing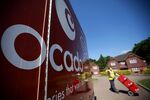 Ocado Group Plc rose as much as 47 percent to a record after unveiling a partnership with William Morrison Supermarkets Plc that will boost the online grocer's coffers by 170 million pounds ($259 million).
The 25-year agreement paves the way for Morrison to make a belated entry to the U.K. online grocery market. The supermarket chain will acquire the lease of Ocado's new distribution center in Dordon, central England, as part of a total investment of 216 million pounds, it said today.
The deal "is a clear positive" for Ocado shares, Andrew Gwynn, an analyst at Exane BNP Paribas, said in a note. The stock surged to 296.8 pence, the highest since the company sold shares at 180 pence each in a July 2010 initial public offering.
The announcement ends two months of waiting for investors in both companies, which said March 14 they had started talks to support the start of Morrison's online business. For Ocado, the accord will enable it to repay an 85 million-pound loan and provide cash for future expansion. Morrison, which is the only one of the U.K.'s four main supermarket chains without an online grocery offering, gets a means to compete with rivals.
"We're going from a standing start to the fast lane in the blink of an eye," Morrison Chief Executive Officer Dalton Philips said today in an interview with Bloomberg Television.
Morrison shares advanced as much as 2 percent to 288.1 pence in London and traded up 1.3 percent as of 2:20 p.m. Ocado traded up 28 percent at 259 pence, valuing the company at 1.5 billion pounds.
Waitrose Agreement
The Morrison tie-up won't affect Ocado's contractual agreement with the competing Waitrose chain, the companies said. Ocado has a supply agreement with Waitrose that allows it to use the Waitrose brand on its website and vans until 2020. Ocado delivers Waitrose groceries to its customers.
Morrison is "confident that we are in no breach of anything" with regard to Waitrose, Philips said on the call. Delivery trucks will be owned by Morrison and equipped with Ocado routing technology, Philips said.
Waitrose, a unit of John Lewis Partnership Plc, has hired a lawyer and asked to see details of the contract between Morrison and Ocado, spokesman Jonathan Clare said by phone. "Once we've done that we will decide what is the appropriate course of action to take," Clare said.
Ocado will pay 7 million pounds to Morrison if the deal falls apart, Morrison Chief Financial Officer Trevor Strain said today at a press conference.
Losing Share
Morrison, the U.K.'s fourth-largest supermarket company, is losing market share in part because of its lack of an Internet grocery offer. The retailer, which owns a 10 percent stake in U.S. Web grocer FreshDirect Inc., plans to start online deliveries in January. It will retain the stake in FreshDirect.
Ocado said Morrison will gain half the capacity of the Dordon warehouse, which opened earlier this year and Philips said can source a "large portion of the U.K." The online grocer will receive 165 million pounds up front, mostly from selling the site to Morrison and leasing it back, it also said.
Under the deal, Morrison is obliged to generate a minimum of 100 million pounds of online sales by the third year and 200 million pounds by the fifth. If not, Morrison's exclusivity protection falls away, it said. Morrison's annual revenue in fiscal 2013 was 18.1 billion pounds.
Ocado plans to use part of the proceeds of the Morrison agreement to repay an 85 million-pound debt facility. The remainder of the money will provide flexibility to expand "within the U.K. and internationally," it said.
The agreement still allows for Ocado to do similar deals with other grocers outside of the U.K. and with non-grocers within the country, Chief Executive Officer Tim Steiner said in an interview today.
Before it's here, it's on the Bloomberg Terminal.
LEARN MORE