Los Angeles Struggles to Choose a Mayor
By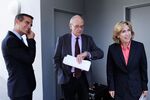 Los Angeles, the second most-populous city in the nation (and my beloved hometown), will hold a run-off election Tuesday to pick its mayor. The choice before voters: Do they want Eric Garcetti, the long-time Democratic public servant who is generally pro-union and pro-education reform, or Wendy Greuel, the long-time Democratic public servant who is generally pro-union and pro-education reform? Their policy positions are so similar that voters seem to be having a tough time choosing: The two candidates are in a dead heat.
The tyranny of small differences has, naturally, made for an especially nasty race, as the campaigns and their allies turn to negative ads to manufacture distinctions. As a member of the city council, Garcetti lived large on the taxpayer dime, one pro-Greuel ad proclaims. Greuel, the city controller, is in the pocket of the power-company union, decries a Garcetti spot. Outside spending has upped the negativity even further. A doctor funded a Spanish-language ad that depicts Garcetti engulfed in hellish flames while a narrator claims he isn't a real Latino and likens him to Sheriff Joe Arpaio. (Both Garcetti and Greuel say that ad went too far.)
When the Los Angeles Times editorial board made its endorsement, it decried the obfuscation and, citing a lack of differences between the candidates, said the best way to judge the two was based on the history of their time in government. It endorsed Garcetti but said "neither candidate is ready" for the job.
Tuesday's vote comes after the March open primary, when none of the eight candidates received a majority of votes needed to avoid a run-off. Almost 80 percent of registered voters didn't show up for the March election. As the L.A. Weekly put it, "voters emitted a collective 'meh.'" The Timesnow estimates that slightly more voters may show up on Tuesday, when it expects only six out of 10 voters to stay home.
Before it's here, it's on the Bloomberg Terminal.
LEARN MORE