Is B-School Worth $200K? JetBlue's Chairman Has His Doubts
by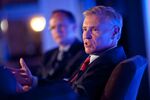 Prospective students should think twice before getting an MBA and consider "a growing selection of affordable and effective" alternatives before paying upwards of $200,000 in tuition, according to JetBlue Airways Chairman Joel Peterson, a professor at the Stanford Graduate School of Business.
In an essay published on Linkedin this week, Peterson suggests options such as "always-improving" online courses, "specialized one-year programs that provide training in a particular industry," and in-house or on-the-job training.
"I'm generally a fan of graduate business schools," he writes. "I've been teaching at one for 20 years, and I got the degree myself. But as an investor and board member, I also work with lots of great entrepreneurs and leaders who've done just fine without an MBA."
The essay, which outlines why prospective students should do a careful cost-benefit and career-goal analysis before committing to an MBA, comes at a time when free, Massive Open Online Courses, or MOOCs, are gaining in popularity. (MOOC provider Coursera offers a free, MBA-level introduction to finance course taught by University of Michigan Ross School of Business professor Gautam Kaul.)
Peterson notes that the best business schools give students insight into their "strengths and weaknesses and enable personal transformation" and that the most valuable element of B-school is the "network of connections you make with your fellow students, who may become partners, clients, customers, and references."
He goes on to write: "The imprimatur of your school will also help open doors and get calls returned in the early years of a career. But even that advantage won't last forever. A decade down the road, where and whether or not you got an MBA will be less important than what you've done since."
Join the discussion on the Bloomberg Businessweek Business School Forum, visit us on Facebook, and follow @BWbschools on Twitter.
Before it's here, it's on the Bloomberg Terminal.
LEARN MORE