Harvard Business School's Half-Million-Dollar Man
Louis Lavelle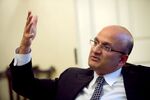 Nitin Nohria, the dean of Harvard Business School, had a compensation package valued at more than $650,000 in 2011, making him the highest-paid dean of any school at the university, the Harvard Crimson reports.
Nohria, who became dean in July 2010, earned $662,054 in salary and benefits, about $67,000 less than university President Drew Faust. Of that amount, $506,973 was pay, while $155,081 was "other compensation," the bulk of which is for use of the dean's residence, according to tax documents recently filed by the university.
Nohria's pay tops that of other deans at Harvard. Medical School Dean Jeffrey S. Flier earned $621,373, while Public Health School Dean Julio Frenk earned $606,612 and Dean of the Faculty of Arts and Sciences Michael D. Smith received $509,613, according to the Crimson.
Through an HBS spokesman, Jim Aisner, Nohria declined to comment.
Median pay for business deans at institutions awarding doctoral degrees was $294,443 in 2012, an increase of 9.7 percent over 2011, according to the Chronicle of Higher Education, which tracks pay for senior administrators from more than 1,200 colleges and universities.
Join the discussion on the Bloomberg Businessweek Business School Forum, visit us on Facebook, and follow @BWbschools on Twitter.