College Grads Expect Training and a Decent Wage
Ira Sager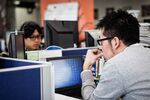 Attention, those hiring from the 2013 crop of college graduates: You may find that this group entering the workforce has some outsize expectations. It will be your job to let them down easy.
According to an online survey by consulting firm Accenture, 2013 college grads have some unrealistic expectations when it comes to training and salary—at least compared with the experiences of their predecessors, the classes of 2011 and 2012.
More than three-quarters (77 percent) of 2013 college grads expect their first employer to provide formal training. The reality? Less than one-half (48 percent) of previous grads say they received training in their first job after graduation.
Salary expectations are equally out of line with the current job market—only 15 percent of pending 2013 college grads expect to earn under $25,000 a year. But one-third (32 percent) of earlier grads currently employed report their current annual salary is $25,000 or less. Parent alert: That means they'll be living with you a bit longer.
The Accenture 2013 College Graduate Employment Survey is based on responses from 1,010 U.S. students graduating from college in 2013 and entering the job market, and 1,005 U.S. participants who graduated from college in 2011 or 2012.
Before it's here, it's on the Bloomberg Terminal.
LEARN MORE