Are You Going to Take This Sitting Down?
by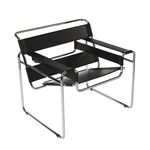 There's only one thing wrong with midcentury modern chairs. They're kind of uncomfortable.
Yes, a Wassily chair looks fantastic, but Loot would like to know if anyone, ever, has enjoyed sitting in one. If so, Loot would like to meet that person and ask them if they have a central nervous system.
For a reality check, we enlisted the help of Teva Bjerken , who concentrates on kinesthetic awareness and physical well-being for a living. Bjerken, a faculty member at the New School for Drama, teaches the Alexander Technique, devoted to distributing one's weight evenly, holding oneself properly, and aligning and relaxing the body's muscles. If Bjerken can't get comfortable in a chair, no one can. We met up with her at the Design Within Reach store in SoHo to test chairs.
Bjerken considered a couple of factors. First, there was the element of support.
"When you sit," she said, "naturally compression happens. And when you sit in a poorly designed chair, oftentimes the chair pushes the pelvis out, so that you cut off your spine into two pieces." Yecch. Compare that with a supportive chair, in which "you can allow your whole spine to lengthen and your ribs to widen," she said. In other words, beware of chairs that make you slouch.
The other consideration: "You want to have a chair that invites a sense of movement, whether you actually move or if it keeps your inner movement alive. Because breathing itself is a contraction and extension. If you sit in a comfortable position, you're in a more fluid, elastic state." If the chair was comfortable only in a supine position (we're looking at you,Corbusier lounger ), it lost points.
We broke the field into two segments -- dining room chairs and armchairs -- and prepared to fidget on slabs of taut leather and tubed metal.
For Least Comfortable Dining Room Chair, three contestants were neck and neck, and neck, but in the end there could be only one winner: theBertoia side chair , which retails for $698. The chair, made out of metal and vinyl, made Bjerken grimace the minute she sat down. Everything was wrong.
"You're being pitched back," she said, "and then, when you actually do lean back, the metal digs into you." The chair makes you slouch, Bjerken noted, "but if I slouched, it would just kill my spine." Loot tried out the chair as well, and came to the same conclusion. It seemed to be built for punishment rather than relaxation.
The runners-up were thePlatner armchair (starting at $2,874), whose elongated seat forced the sitter to slide uncomfortably into its back, and Hans Wegner's Wishbone chair (starting at $599), whose frame dug into the lower spine. (Called an armchair, the Platner is generally used as dining room chair.) Despite a considerable amount of adjustment, neither Bjerken nor Loot could find a way to get comfortable in these things.
Now the envelope, please, for Least Supporting Armchair. Here, too, Bjerken and Loot found a crowded field. After some heartbreaking eliminations, it was thePaulistano armchair ($1,550) vs. theWassily chair ($2,264), with the Paulistano narrowly eking out a victory.
In fairness, the Wassily chair was truly difficult to sit in for longer than five minutes, but the Paulistano chair's combination of surprise and pain won the day. Its leather seat is constructed like a hammock, so upon sitting down, Bjerken, and then Loot, was pitched backward, only to collide with the metal frame. "This is not ... this slumps," said Bjerken, quickly extricating herself from the chair. Loot agreed. The Paulistano was especially cruel considering that at the outset it looked like a womb.
Bjerken did find a variety of chairs extremely comfortable. "There are some beautiful chairs that feel good," she said. "You feel dynamic in them." But she sounded a final note of caution: "Someone with bad habits would find a way to misuse any chair."
James Tarmy reports on arts and culture for Bloomberg Muse, the arts and leisure section of Bloomberg News.

Before it's here, it's on the Bloomberg Terminal.
LEARN MORE