American Airlines Doesn't Want Your Bags in the Cabin
by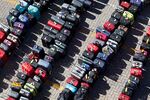 The airline that introduced checked-baggage fees has learned the downside of funneling more suitcases into the cabin: It takes longer for people to board. As a result, American Airlines will now allow passengers with only an item small enough to stow on the floor to board before those with suitcases, hoping to reduce the flood of roller bags trundling down plane aisles.
That, in turn, should get jets backed away from gates quicker and help improve American's on-time arrival rate. The change, announced on May 16, means many travelers will check a bag for free at the gate, avoiding the $25 fee American and its domestic rivals assess at check-in. A four-week test showed the new boarding procedure shaved an average of two minutes for flight loading, "which adds up," says Daniel Bellavigna, American's supervisor of continuous improvement. (Yes, that's his actual title.)
In March, the most recent month for which statistics are available, about 20 percent of U.S. airlines' flights were delayed, with roughly 7 percent of those delays caused by late-arriving aircraft, according to the Department of Transportation. Among its traditional network peers—United Airlines, Delta Air Lines, and US Airways—American had the worst record (PDF) of getting its planes to the gate on time.
Recent months have shown improvement for American, which suffered a dreadful 2012 in terms of on-time performance as it restructured in bankruptcy court and angered employees. American ranked next-to-last for the 12 months ended March 2013, with 76.2 percent of its flights on time, only slightly better than regional airline ExpressJet, at 75.3 percent. Delta, ranked third, was at 86.3 percent.
"It had to be a blinding glimpse of the obvious to American's managers that some delays were the result of some passengers not finding room for their carry-on bags," Henry Harteveldt, a travel industry analyst with Hudson Crossing, wrote in an e-mail today.
Another bag problem for American: Half of the overhead bins on its older MD-80 jets can't fit the popular roller bags "wheels-first," which greatly limits the number of bags that can be accommodated. American is slowly replacing the 1980s-era narrow-body jet with new Boeing 737s, but it still has nearly 200 MD-80s in its fleet, with two-by-three seating. The bins on the side with two seats require the roller bags to be placed sideways to fit.
American stunned many flyers in June 2008, when it introduced a $15 fee to check a bag—a move that most airlines quickly followed, as record-high oil prices slammed their finances. The bag fee, and a cavalcade of others in the years since, has produced more than $6 billion in new annual revenue for the airline industry. A trio of smaller airlines, Spirit, Allegiant Travel, and Frontier, have taken the baggage fees to a new level—charging travelers who have carry-on bags that, ostensibly, slow the loading process. "Frontier's most loyal customers have made it very clear that finding overhead bin space for carry-on bags has become unacceptably difficult," the Denver-based carrier said in a May 1 press release, announcing a new carry-on bag fee for trips not booked on the airline's website.
Before it's here, it's on the Bloomberg Terminal.
LEARN MORE