Wal-Mart Second-Quarter Forecast Trails Estimates
Renee Dudley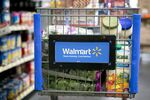 Wal-Mart Stores Inc., the world's largest retailer, forecast second-quarter profit that was less than analysts estimated as the slow U.S. economy and higher taxes put pressure on consumers.
Earnings per share will be $1.22 to $1.27, the Bentonville, Arkansas-based company said today in a statement. Analysts projected $1.29, the average of 24 estimates compiled by Bloomberg. Sales in the fiscal first quarter ended April 30 trailed analysts' estimates while profit matched projections.
Chief Executive Officer Mike Duke has cut prices on groceries and other necessities as the chain's lower-income shoppers deal with elevated unemployment and increased Social Security taxes. First-quarter sales at U.S. Wal-Mart stores open at least 12 months fell 1.4 percent, the first drop after six straight gains. Analysts estimated a 0.1 percent decline.
"They're pressured by the economy, unemployment, the increase in payroll taxes, the delay in tax returns," Bernard Sosnick, an analyst at Gilford Securities based in New York, said today in an interview. "All these negatives coalesced in the first quarter."
Sosnick recommends buying the shares and said improvement in the economy and lower gas prices should help Wal-Mart later in the year.
The shares fell 1.7 percent to $78.50 at the close in New York. Wal-Mart has gained 15 percent this year, compared with a 16 percent increase for the Standard & Poor's 500 Index.
Profit Gains
First-quarter net income increased 1.1 percent to $3.78 billion, or $1.14 a share, from $3.74 billion, or $1.09, a year earlier, Wal-Mart said. Analysts projected $1.14, the average of 24 estimates compiled by Bloomberg. First-quarter revenue rose 1 percent to $114.2 billion, trailing analysts' $116.1 billion average estimate.
Duke said in the statement that the first quarter was marked by "considerable headwinds to top line sales" and that the company's performance will improve throughout the year. Comparable-store sales for Wal-Mart U.S. will be little changed to up 2 percent in the second quarter, the company said.
Unemployment remains "high on the list of concerns" of shoppers surveyed by Wal-Mart, Chief Financial Officer Charles Holley said on a call with reporters today. The U.S. unemployment rate was 7.5 percent in April.
Payroll Tax
Wal-Mart's sales slowed in January and February after shoppers' incomes were reduced by a 2 percentage-point increase in the payroll tax. They also were hurt by tax returns that were delayed because of forms that were shipped late and additional, federally mandated fraud scrutiny.
Jerry Murray, Wal-Mart's vice president of finance and logistics, said in a Feb. 12 e-mail obtained by Bloomberg News that month-to-date sales had been a "total disaster." Murray left Wal-Mart last month. Holley said in March that those sales returned to normal by the end of February.
Cooler temperatures also curtailed demand for spring merchandise in North America. Target Corp., the second-largest U.S. discount retailer, said last month first-quarter profit would be less than it previously forecast as cold weather hampered sales of spring merchandise.
"It has been much cooler than normal, which has an impact on seasonal merchandise," Brian Yarbrough, an analyst at Edward Jones & Co. in St. Louis, said today in an interview. "A lot of Wal-Mart's customers buy clothes when they need them. If weather is really a negative impact on the first quarter, we'll find out in the second quarter because it should even out."
Leftover Merchandise
On the call with reporters, Holley said he doesn't expect the company to have "extraordinary markdowns" on leftover spring merchandise.
Kohl's Corp., the third-largest U.S. department-store chain, also cited weather as affecting first-quarter sales while saying that it was able to keep expenses and inventory under control.
The company said today in a statement that first-quarter net income fell 4.5 percent to $147 million, or 66 cents a share, from $154 million, or 63 cents, a year earlier. Analysts surveyed by Bloomberg estimated 57 cents, on average. Menomonee Falls, Wisconsin-based Kohl's shares rose 4.9 percent to $52.11.
Shoppers are getting some relief as gas prices decline. The average U.S. price of a gallon of regular unleaded gas fell to about $3.50 in April from this year's high of $3.79 in February, according to AAA.
Grocery Prices
Given the challenges its customers face, Wal-Mart has worked to keep prices low to maintain traffic at its stores. Grocery prices at Wal-Mart fell in the first quarter as part of the retailer's plan to spend $6 billion to cut prices in the category, according to a study conducted by Bloomberg Industries during the past 22 months.
The retailer also has been opening more small, neighborhood markets to better compete with dollar-store chains such as Dollar General Corp. and Family Dollar Stores Inc. Wal-Mart prices were below Dollar General's 100 percent of the time in household goods and more than 85 percent of the time in grocery, auto supplies, pharmacy and health and beauty aids, according to the study.
Wal-Mart's international division increased first-quarter sales 2.9 percent to $33 billion. Excluding the effect of foreign-currency fluctuations, sales would have risen 5.4 percent to $33.8 billion.
Price Strategy
The company has been working to reintroduce its everyday low price strategy in Brazil and China after struggling to find strong sales growth in both markets. In India, Wal-Mart has faced questions over lobbying.
The company said last week it would invest 100 million yuan ($16.3 million) over three years to improve food safety in China as it works to bolster its image after a series of food-related citations.
Wal-Mart increased first-quarter comparable-store sales in the U.K., Africa, Mexico, Central America, Brazil, Chile, Argentina, China and India, while sales on that basis fell in Canada and Japan. Operating income in the international division fell 4.7 percent to $1.26 billion as expenses rose.
"Expenses growing faster than revenue is disappointing," Yarbrough said. "International has been choppy."
Probe Costs
Wal-Mart said today that expenses related to probes of possible violations of the Foreign Corrupt Practices Act in its international operations have been higher than it expected. Those costs were $73 million in the first quarter, more than the $40 million to $45 million it projected. The FCPA expenses may be $65 million to $70 million in the second quarter, the company said today.
The U.S. Department of Justice and the U.S. Securities and Exchange Commission are investigating allegations that Wal-Mart systematically bribed Mexican officials so it could more quickly open stores in the country. Federal and local government agencies in Mexico also are involved in investigations of those
Wal-Mart said in a November filing that it also has started inquiries into potential violations of the FCPA at operations in Brazil, India and China.
Before it's here, it's on the Bloomberg Terminal.
LEARN MORE