U.S. Owes Small Contractors $3 Million, Says Graves
by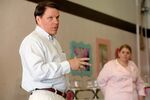 Contracting with the U.S. government can be a boon to small businesses. Congress tasks the federal agencies with awarding 23 percent of contracts to small companies, and while the government has struggled to meet that goal, small businesses that do win jobs can count on a solid customer.
Except when they can't. According to a report today from the House Small Business Committee, the General Services Administration owes more than $3 million in unpaid bills to small contractors.
The missing money comes from the GSA's Multiple Award Schedule, which lets other federal agencies contract goods and services—from office supplies to construction jobs—from thousands of independent businesses. The program guarantees contractors at least $2,500 in annual sales to help offset the expense of competing for the contracts—costs that often run from $6,000 to $40,000, according to House Small Business Committee Chairman Sam Graves. But from fiscal year 2008 to 2012, at least 1,280 small businesses didn't receive those guaranteed payments.
"When federal agencies don't live up to their end of the bargain, small businesses are discouraged from competing and taxpayers lose the benefits of government efficiency," says Graves, a Missouri Republican, in a statement.
According to the Washington Post, which reported on the unpaid guarantees this morning, GSA Federal Acquisition Services Commissioner Thomas Sharp confirmed the missing money in a letter to Graves.
Graves says the GSA will make good on the missed payments this year.
Update: The General Services Administration will issue payments to small business contractors in the MAS program, according to an emailed statement from the agency's press secretary, Mafara Hobson. She writes:
Because of policy dating back several years and several administrations, some businesses were not compensated because they had to request the guaranteed minimum payment to GSA. Under new leadership, GSA is changing its policy and will no longer require eligible small businesses to request these payments. Instead, GSA will proactively identify those small businesses who are eligible and issue payments automatically. The agency will also issue payments to those eligible businesses who have not requested payments within the past six years.
Before it's here, it's on the Bloomberg Terminal.
LEARN MORE