Twitter Talk Dominates TV Ad-Buying Blitz
by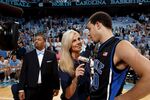 As television executives pitched a new season of shows to advertisers this week, one hit kept coming up: Twitter.
Most notably, the social media platform was ubiquitous in ESPN's presentation, as the sports broadcaster is greatly expanding a partnership in which it blasts highlight videos throughout Twitter's feed of mini-messages. Both companies will sell video advertising for the spots. Twitter already has similar partnerships with the Weather Channel and Turner Broadcasting System, and it's pitching deals to NBCUniversal and Viacom.
In other words, as companies such as Facebook and Zynga struggle to craft revolutionary new ad formats, Twitter is quietly skimming from one of the oldest and deepest revenue streams in the business: the $60 billion annual market for TV advertising. If Twitter continues to win over TV executives, the company's video revenue could rival the money it makes from "sponsored" messages.
The San Francisco-based company does not release its financial results and did not respond to requests for comment, but EMarketer estimates Twitter will collect $583 million in ad revenue this year. At the same time, EMarketer expects Internet video advertising to jump 41 percent to $4.1 billion, which would represent almost 7 percent of the TV haul.
Twitter's recent success with broadcast executives is a result of several savvy strategic moves to monetize the valuable data in its mountain of 140-character messages. Early this year it paid about $100 million to acquire Bluefin Labs, a company that measures Twitter chatter that isn't necessarily labeled with a relevant hashtag or keyword. Bluefin lets the company track viewing habits and dialogue in a way that's arguably more nuanced than what even Google or Facebook can offer. It also analyzes the connections between TV audiences and certain brands.
And late last month, Twitter struck a multiyear deal with media-buyer Starcom Media Vest Group. Details of the agreement were scarce, but it involves hundreds of millions of dollars and gives Starcom a direct pipeline to Twitter's data. "In about 18 months, Twitter has gone from an experiment to essential," Starcom Chief Executive Officer Laura Desmond told Reuters at the time.
The Starcom agreement is proof of concept. When you have won over the folks who decide where Samsung Electronics and Kellogg place their pitches, everyone in the ad game will be angling for a piece of the action.
Indeed, TV executives seem to be turning to Twitter as they sour on Nielsen, long the dominant player in determining how many people see a particular show or ad. Broadcast and cable networks say Nielsen is leaving out as much as 12 percent of viewers, because it hasn't perfected a way to capture those who watch on the Web. Nielsen is working hard to fine-tune its tweet-tracking: It has a partnership with Twitter and bought SocialGuide, a Bluefin competitor, in October.
Still, to the platform go the spoils. And Twitter's TV update is short and sweet: #profit.
Before it's here, it's on the Bloomberg Terminal.
LEARN MORE