business
The Next Bitcoin Bubble? VCs Back Digital Currency Startups
By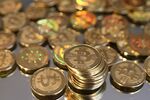 Over the course of a wild week last month, the price of Bitcoin rocketed to a peak of $266 on April 10, up from the vicinity of $140 a week earlier, and promptly plunged to below $80 on April 16. A month later, prices have stabilized at around $115, and venture capitalists are starting to ink deals to invest in startups built around the crypto-anarchist currency.
Investors have been dabbling in the currency for some time, but venture capitalists are just getting into investing in Bitcoin companies. Union Square Ventures jumped in last week, leading a $5 million investment in Coinbase, which charges customers a fee to convert dollars to Bitcoin and vice-versa. At the time, Fred Wilson, managing partner at the New York based venture firm, which was an early investor in Twitter, told the Wall Street Journal that the deal would be a "trigger point" for investments in Bitcoin startups.
A week later, and despite the U.S. Department of Homeland Security's recent seizure of an account operated by Mt. Gox, a Bitcoin exchange, Wilson's prediction looks good, at least in the short term. On May 14, Liberty City Ventures, a second New York-based venture firm, announced a $15 million fund to invest in startups that focus on Bitcoin and other digital currencies, and Boost VC said it would launch a Bitcoin-related seed fund. On Thursday, Founder's Fund, the VC firm started by PayPal co-founder Peter Thiel, said it was leading a $2 million deal in BitPay, which helps businesses process payments in Bitcoin.
Are the venture capitalists itching to buy a piece of a Bitcoin startup acting less rashly than the Bitcoin enthusiasts who helped inflate last month's bubble? It wouldn't be against character for a venture investor to bet on the latest shiny new thing. Those investments look pretty big, especially given that the currency's total value is relatively small. As of Thursday, there are something like 11 million Bitcoin in existence. At a price of $115, all the Bitcoin in the world is worth about $1.3 billion.
Before it's here, it's on the Bloomberg Terminal.
LEARN MORE