The Little-Known Cousin of Payday Loans
by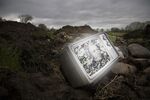 The fees and risks associated with payday loans are well known, but less familiar is a related type of borrowing for consumers in a jam: installment loans. A new investigation by the nonprofit newsroom ProPublica and the public radio show Marketplace offers a guide to the pitfalls associated with these storefront loans. They're not a new kind of borrowing, but the investigation found installment loans have escaped the reforms that aim to limit payday and other high-cost lending.
Unlike payday loans, installment loans can total thousands of dollars and are secured by collateral—say, a TV or lawnmower. Consumers pay a fixed amount each month, but, as the investigation found, installment lenders can encourage borrowers to essentially "refinance" their loans quickly, which can load up fees and limit how much the payments go toward reducing the principal amount owed.
Installment lenders have found ways to work around legal limits on how much interest they can charge, according to the investigation. Many states don't limit the maximum interest rate on these types of loans, and in those states World Finance (one of the largest installment lenders) makes loans with rates as high as 200 percent. In states that have capped maximum interest rates, however, the report found World Finance convinces borrowers to take out various insurance policies that can more than double the effective rate of the loans for borrowers. The process of getting borrowers to buy the insurance was strategic—"You said they are 'included with the loan' and focused on how wonderful they are," a former employee told the reporters—masking the fact that the insurance was optional. Lenders then get a cut of the insurance premiums.
(World Finance told the news organizations that it provides a needed, affordable service to borrowers, and that it trains its employees to be upfront with customers about the costs associated with the loans.)
Other types of short-term loans are slipping through the regulatory cracks. In a follow-up story, ProPublica's Paul Kiel and Marketplace's Mitchell Hartman revealed that auto title loans have trapped military service members in difficult situations. And online payday lenders have skirted state lending limits by associating with Native American tribes, which have territorial sovereignty—an exclusion that's blocked further investigation. Banks have started offering payday-like loans, which they sometimes call "deposit advance" loans, prompting federal regulators to develop new guidelines limiting the loans.
A recent Consumer Financial Protection Bureau report found that payday and deposit advance loans can be helpful for some borrowers who truly have just a short-term cash need, but often borrowers use them more frequently and can't dig themselves out of their hole. It all points to a question that's largely unanswered: how to help people with little or bad credit, without raking them over the coals.
Before it's here, it's on the Bloomberg Terminal.
LEARN MORE