Obama Joins Erdogan in Latest Demand for Assad Ouster
Terry Atlas and Mike Dorning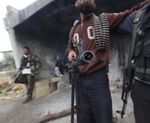 President Barack Obama and Turkish Prime Minister Tayyip Erdogan presented a joint front against Syrian dictator Bashar al-Assad even as Obama shies away from deeper U.S. involvement in the conflict, such as sending weapons to the rebels.
The Turkish leader, a key U.S. ally in the Muslim world, said before his trip to Washington that he would press Obama for assertive "further steps" needed to speed Assad's fall. Standing alongside Obama in the Rose Garden yesterday as a light rain fell, Erdogan sidestepped a reporter's question about what happens if the U.S. doesn't step up its involvement.
"I'd like to look at things with the glass half-full, instead of half-empty," Erdogan said. He and Obama are in "full agreement" on the goals of ending the bloodshed and fostering a representative post-Assad government, he said, speaking through an interpreter.
Obama said he maintains the option of U.S. military measures, particularly because of the broad threat posed by Syrian chemical weapons. Still, he said, there is "no magic formula for dealing with an extraordinarily violent and difficult situation like Syria's."
Obama has resisted calls from regional friends, such as Turkey, and from lawmakers such as Republican Senator John McCain for the U.S. to send weapons to the rebels and use air power to deny Assad the use of his warplanes and helicopters.
U.S. Role
The president has little appetite for deeper American involvement in the conflict even though U.S. intelligence officials have concluded that Assad's regime has probably used small amounts of chemical weapons three times, said three U.S. officials with knowledge of the administration's deliberations.
Obama has weighed the potential advantages of toppling Assad, which include ending the carnage that's cost more than 70,000 Syrian lives, stemming a tide of refugees threatening to destabilize Jordan and Lebanon, and depriving Iran of its main Arab ally, said the officials, who requested anonymity to discuss internal policy debates.
The president's list of negatives is longer, beginning with the question of what would follow the violent end of Assad's rule. Obama and his aides are concerned about the emergence of a radical regime in Damascus hostile to Israel, the officials said. They also put a high priority on averting the lawlessness and sectarian violence that erupted in Iraq after the 2003 U.S. invasion, an imperative that surfaces in almost every White House discussion of Syria, an administration official said.
Diplomatic Initiatives
For now, Obama is leaving it to other nations to send arms while he bets on a revived diplomatic initiative that he says may be a long shot.
"I'm not promising that it's going to be successful," he said at a May 13 press conference with U.K. Prime Minister David Cameron. "Frankly, sometimes once sort of the furies have been unleashed in a situation like we're seeing in Syria, it's very hard to put things back together."
Obama approaches Syria balancing a commitment to avoiding a humanitarian disaster -- as he demonstrated through U.S. air power in Libya -- against wariness over another intervention in the Middle East.
"From the beginning, President Obama, it seems to me, has been determined to avoid another military entanglement in Syria," said Gary Samore, who earlier this year left his post as Obama's adviser on arms control and weapons of mass destruction. "He thinks it would end up chewing up a huge amount of resources, and I think he questions whether, at the end of the day, U.S. military intervention would be positive in terms of stabilizing the situation."
Peace Conference
Obama's early opposition to the Iraq War helped him gain the 2008 Democratic presidential nomination and then the White House. He spent much of his first term extricating the U.S. from the wars in Iraq and Afghanistan started by his predecessor.
The goal of avoiding Iraq-like sectarian violence underlies Secretary of State John Kerry's efforts to convene a peace conference this month or in June involving elements of the Syrian regime and the opposition.
Kerry and his Russian counterpart, Sergei Lavrov, on May 7 announced the conference without advance buy-in from the Syrian adversaries. Both the Assad government and the main political opposition said they need to learn more about the meeting, which may be held in Geneva, before they commit to attending.
Soonest Possible
"We are working very hard to fix a date," United Nations Secretary-General Ban Ki-Moon said today in Sochi, Russia, after talks with Lavrov.
The meeting needs to take place "as soon as possible" to move toward a political solution, Lavrov said, urging the inclusion of Syria's regional ally Iran as well as Saudi Arabia.
In the meantime, rebel supporters say U.S. arms are urgently needed to break the military impasse. There is no "clear way for the opposition to win the battle as it is right now," Louay Sakka, co-founder of the Syrian Support Group, a U.S. nonprofit that raises funds for the rebels' Free Syrian Army, said in Washington.
Some U.S. lawmakers, most prominently Republican Senators McCain of Arizona and Lindsey Graham of South Carolina, are urging Obama to send weapons and use U.S. air power to tip the balance against Assad in the conflict, which began in March 2011.
'Unconscionable Slaughter'
"You can go in and give them a safe zone and you give them the weapons that they need and the help they need, and stop this unconscionable slaughter," McCain said in a May 12 interview on ABC Television's "This Week."
Obama, while authorizing humanitarian aid and non-lethal military supplies, has been unwilling to go beyond that, and there's little public pressure for him to do so.
Americans by a 62-to-24 percent margin think the U.S. doesn't have a responsibility to "do something about fighting in Syria," according to a CBS News-New York Times poll conducted last month. Opinion shifts if Assad uses chemical weapons, with a plurality -- 45 percent to 31 percent --favoring military action by the U.S. and its allies, according to a Pew Research Center poll taken during the same period.
Syria is a "land of bad options" and the administration has "reason to hesitate" on intervention, according to Anthony Cordesman, a military analyst at the Center for Strategic and International Studies in Washington.
Unpredictable Fallout
"No one can predict who will gain power if Assad falls, and the same U.S. and foreign critics that call for U.S. action today have shown they can be even more forceful critics if the United States acts without instant success," Cordesman wrote in a report last month.
Even as McCain and Graham demand more assertive action in Syria, they have joined other Republicans in criticizing the administration's handling of attacks on a U.S. consulate in Benghazi, Libya, highlighting the risk of extremist influence following regime change in an Arab state.
Obama turned down a proposal last year quietly backed by members of his national security team, including then-Defense Secretary Leon Panetta and the chairman of the Joint Chiefs of Staff, Army General Martin Dempsey, to send arms.
Since them, Dempsey said he has changed his mind and is more concerned about the risk that U.S. arms might fall into the hands of terrorists, he told the Senate Armed Services Committee on April 17.
'All Options'
The U.S. has increased contacts with the Free Syrian Army's military command, headed by defected Syrian General Salim Idris, who has been trying unify rebel factions other than Islamic extremists. And Defense Secretary Chuck Hagel said this month that the weapons issue continues to be reviewed.
"You look at and rethink all options," Hagel told reporters on May 2, adding that he hadn't reached a conclusion on what to recommend to the president.
U.S. officials are concerned that, absent a peace accord, sending arms may fuel sectarian fighting that would continue after Assad, said a former administration official who asked not to be named because he was involved in the policy debate.
The other main military option that has been under review, creating a no-fly zone, isn't seen as feasible, according to an administration official. There is no international consensus for such action, as there was in Libya, and it wouldn't move the conflict toward a political transition, the official said.
'Complicated' Move
Speaking to reporters last month, Dempsey said a no-fly zone would be "complicated" to execute and would have limited impact, since Syrian air power accounts for only about 10 percent of opposition casualties. Ninety percent are from direct fire and artillery, he said.
Still, the U.S. and its European and Arab allies have asserted that Assad must go. Obama has cited "both a moral obligation and a national security interest." His administration has committed more than $750 million in humanitarian aid for refugees and displaced Syrians, non-lethal supplies for the rebels such as military rations and medical kits, and governance assistance for areas under rebel control.
"It is hard to imagine things the U.S. might do beyond the purely humanitarian sort of thing or the diplomatic track that would not simply inflame the conflict," Paul Pillar, a former career CIA analyst who was a national intelligence officer for the Near East and South Asia, said in an interview.
Complicating matters, what began as a political revolt against Assad's dictatorship has evolved into a sectarian civil war with regional implications.
Iran, Hezbollah
Assad loyalists sharing his minority Alawite faith, an offshoot of Shiite Islam, have been bolstered by weapons and fighters from Shiite Iran and Lebanon's Shiite militia, Hezbollah.
On the rebel side, the conflict has been a magnet for Sunni extremists from neighboring Iraq and elsewhere who have joined radical factions such as the al-Nusra Front, which the U.S. calls a terrorist organization linked to al-Qaeda in Iraq. The U.S. State Department yesterday designated the group's leader, identified as Muhammad al-Jawlani, as a "specially designated global terrorist," alleging connections to AQI and to main al-Qaeda leader Ayman al-Zawahiri.
While the U.S. has supported the rebels with non-military and humanitarian aid, Russia has supplied its longtime ally in Damascus with weapons. Rebels also get arms aid from Persian Gulf nations and wealthy Arab backers, some funneling help to Islamist factions.
Mostly Defensive
Russia is mainly delivering defensive air-defense systems to Syria and these weapons won't help the government forces against the rebels or shift the regional balance of power, Lavrov said.
In Congress, Senator Robert Menendez, a New Jersey Democrat and chairman of the Foreign Relations Committee, and Senator Bob Corker, a Tennessee Republican, on May 15 introduced legislation to provide U.S. arms and military training to vetted rebel groups. Neither the administration nor interventionists such as McCain are advocating U.S. troops on the ground in Syria, and the rebels aren't asking for that.
Obama's hand could be forced by events if the U.S. confirms the use of chemical weapons which cross his red line.
An intelligence assessment that the Syrian regime may have twice used a small amount of sarin, a deadly nerve agent, wasn't conclusive enough to take action, Obama said on May 7. Another chemical was used during a separate incident, officials say.
Red Line
The three officials said the president made his red line deliberately vague in a bid to deflect pressure on him to respond militarily if they are used. Obama insists not only on having convincing evidence he can present to the United Nations that banned weapons were used in a systematic way against rebels or civilians, but also on proof that Assad or other top officials ordered their use, the officials said.
The rebel leadership is using the reports of chemical attacks to push for help now. Idris told Obama in an April 30 letter that those incidents "are but a prelude to a larger and more systematic deployment of chemical weapons as part of Assad's military strategy."
"I understand the reasons behind your cautious involvement in Syria," Idris wrote in the letter made public by his supporters in Washington. Still, he continued, rebels are defenseless against Assad's chemical weapons and need help to "rid Syria and the world of this cruel dictator."
Before it's here, it's on the Bloomberg Terminal.
LEARN MORE