Q&A: Kellogg's Sally Blount
Louis Lavelle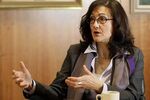 A little more than a year ago, the dean at Northwestern's Kellogg School of Management confidently announced some of the most sweeping changes in the business school's more than 100-year history. Sally Blount had taken over as dean of the top-ranked program only nine months earlier, and already she was talking about a complete overhaul of the entire Kellogg MBA curriculum, new one-year master's programs, and cutting the size of the flagship two-year MBA program by as much as 25 percent.
Blount stopped by the offices of Bloomberg Businessweek today to give us an update on how her transformation at Kellogg is going. Her team is in place: Three Kellogg alums now head up admissions, marketing, and executive education. Applications are up, as is first-round yield. And the ground-breaking on Kellogg's new building is expected to begin later this year. What follows is an edited excerpt of Blount's comments:
Tell us about the progress you've been making.
I have the best senior team in the industry, and we're getting the operating results to show it. We completed our curriculum review for full-time and part-time [programs], and we're in the middle of the curriculum review for the EMBA program. We've begun shrinking our two-year program and increasing [the size of] our one-year program. It's evolutionary change; it's not revolutionary change.
A number of business schools have recently announced plans to launch online MBAs, including Carnegie Mellon's Tepper School of Business and Pepperdine University's Graziadio School of Business & Management. Is Kellogg planning to jump into online education?
Online is going to transform higher education over time. I fully believe that higher education, including business education, is going to have a new model. I think there's going to be a whole lot of online degrees and the Cadillac in-person degrees. What we're in the business of at Kellogg is face-to-face business education. We're going to use technology to keep making that experience better.
Tell us about the new building.
There's a huge advantage to being the last major business school to build a building. We have toured every major building in the world that other major business schools have completed to see how people are creating modern work environments. By having a building that's opening five to 10 years after all our competitors, there are things we can do that none of them thought to do. One of the things our architects have done is to create four adjoining loft structures. They argued that the most flexible design in history is the loft. This will allow us to completely reconfigure our classrooms if we want to, as technology changes.
If you think about it, adults don't learn optimally in 65-person units for an hour and a half. All the research shows that smaller class sizes, more engagement, is the way adults learn better. We have to be adapting our models over time for that.
Join the discussion on the Bloomberg Businessweek Business School Forum, visit us on Facebook, and follow @BWbschools on Twitter.