Liability Shocker: A Rare Truce on Medical Malpractice Suits
Paul M. Barrett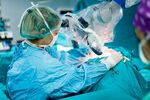 The King James Bible doesn't actually contain a passage about lambs lying down with lions (Isaiah refers to a wolf dwelling with a lamb), but it's a familiar concept and one that's sprung to life in the state of Georgia, where physicians and plaintiffs' lawyers have declared a narrow truce. At least for the moment.
Republican Governor Nathan Deal signed into law on May 6 what Bloomberg BNA reports is the nation's first "provider shield" statute. The measure aims to protect doctors from malpractice suits based on payment-policy standards established by the 2010 federal health-care reform law, known as the Affordable Care Act (ACA). What's truly amazing about this development is that both physicians and trial lawyers supported the law.
The ACA establishes a complicated array of new federal standards for doctors' fees and reimbursement. The Georgia statute says physicians in that state cannot be sued under Georgia law for failing to follow the new standards.
William Clark, director of political affairs at the Georgia Trial Lawyers Association, told Bloomberg BNA that his group was "glad to partner" with medical organizations to push for the law. "While we work steadfastly to shield patients from negligent medical care—especially given that 98,000 Americans die annually from preventable medical malpractice—we did not mind helping the physicians enact a bill that will prevent someone from suing a doctor for the doctor's failure to comply with a payment guideline, something that has nothing to do with the real question of whether the doctor failed to comply with the medical standard of care," Clark said. (Georgia officials said they were not aware of any suits having been filed over the ACA guidelines.)
For all the sweetness and light, physician lambs probably shouldn't get too comfortable with the legal lions (or wolves, if you want to be Biblically accurate). Clark added that the new law should not be seen as a "safe harbor for physicians" who have failed to meet the appropriate standard of care, as defined by Georgia malpractice precedents and statutes.
Translation: The shield law does not portend an end to malpractice litigation—in Georgia or anywhere else.
Before it's here, it's on the Bloomberg Terminal.
LEARN MORE