Former WVU Business Deans File Suit In Scandal's Aftermath
Louis Lavelle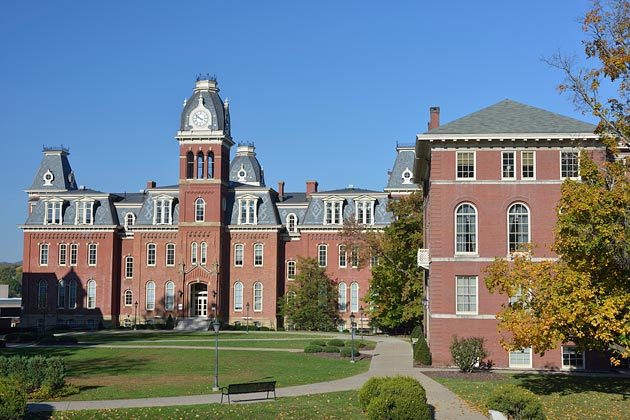 Two former business school deans at West Virginia University who were swept up in a scandal nearly six years ago have filed a lawsuit against the school, seeking financial damages and the restoration of their reputations.
In 2008, an independent panel charged with investigating the university's decision to award an MBA to the then-governor's daughter, Heather Bresch, concluded that she did not earn the degree and that top administrators had acted inappropriately in awarding it. In the wake of the panel's report, a number of top officials at the school, including WVU business school Dean R. Stephen Sears and Provost Gerald Lang, resigned.
The degree was ultimately rescinded. Bresch was promoted to chief executive officer of Mylan, a Pennsylvania-based pharmaceutical company where she was working while she was enrolled in the program. Her father, Joe Manchin, is now a U.S. senator.
The lawsuit was filed by Sears and former business school Associate Dean Cyril Logar, who lost that position following the scandal but remains a tenured business professor at WVU. The suit alleges that the school's investigation of the two men did not comply with its own policies and never resulted in a finding of academic misconduct. Yet the school did nothing to restore their reputations as required by those policies, the lawsuit asserts.
The suit, filed in U.S. District Court in Clarksburg. W. Va., on May 14, claims the publicity surrounding the scandal and the school's inaction caused Logar damage to his reputation, resulted in lost research and consulting opportunities, and "rendered him an outcast" at WVU. In addition to losing the deanship, the suit says that Sears lost career opportunities—including a dean's position at Marquette University, where he had been a finalist but was asked to withdraw.
John Bolt, a spokesman for the university, said the school does not comment on pending litigation. Attempts to reach Sears and Logar were unsuccessful. Logar's attorney, Robert Ridge, declined to comment. Sears's attorney, John Tinney Jr., did not return calls. The lawsuit seeks unspecified financial damages and does not explain how the reputations of Sears and Logar might be restored.
Join the discussion on the Bloomberg Businessweek Business School Forum, visit us on Facebook, and follow @BWbschools on Twitter.
Before it's here, it's on the Bloomberg Terminal.
LEARN MORE