As the Philippines and Taiwan Fight, Migrant Workers Suffer
By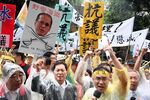 Taiwan and the Philippines are fighting, with Taiwanese furious over the killing of a local fisherman by the Philippine coast guard in disputed waters, so Taiwanese President Ma Ying-jeou has found an easy target to show voters he can stand up for them: Ma is punishing young women from the Philippines who work in Taiwan as domestic helpers. The Taiwanese government on Wednesday announced it will stop processing work permits for Filipinos as part of its sanctions against the Philippine government. There are 88,000 people from the Philippines working on the island, and 3,000 more apply each month.
Unfortunately for the Philippines, President Benigno Aquino III isn't in much of a position to ignore threats from Ma. For all the talk about a revival of the Philippine economy, the country is still vulnerable to moves against its overseas workers. Yes, the Philippines has the fastest-growing Asian economy after China. And, yes, its benchmark stock market index is up 25.7 percent this year, making Manila the hottest stock exchange in Asia outside Abenomics-fueled Japan.
Eventually, more good news should allow the Philippines to reduce its reliance on remittances from overseas workers. But for now the country still depends on money coming back from Filipinos employed as domestic helpers, drivers, construction workers, and nurses, as well as in other in-demand jobs abroad. The Philippines' overseas workforce accounts for about 10 percent of its gross domestic product.
Filipino workers often have no choice but to look outside the country for jobs. Unemployment in the Philippines is on the rise, even as the country's economy has been on the upswing and the government has won endorsements from ratings agencies that have upgraded the Philippines from junk status to investment grade. The economy grew 6.6 percent last year, but the jobless rate for January (from which the most recent set of statistics is available) increased to 7.1 percent, from 6.8 percent in October. And demographics make the situation more urgent, with almost 18 million new workers projected to join the labor pool by 2020—a 31 percent increase compared with 2010—according to Bank of America.
With a weak job market at home, many Filipinos look for work in such places as Hong Kong, where lots of middle-class people depend on Filipino women to care for their children while both parents work: About 300,000 Filipinas are working in Hong Kong as domestic helpers. In 2010, eight tourists from Hong Kong died after a gunman armed with an M-16 assault rifle attacked a tour bus in Manila. Many people in Hong Kong were angered by what they considered a mishandling of the crisis by the Philippine government, and the administration of then-Chief Executive Donald Tsang advised Hong Kong people in the Philippines to leave.
After the shooting there were anti-Philippine protests in Hong Kong, but there was little backlash against Filipino workers in the city. Still, many Hong Kong people were furious when some Filipinas tried to go through the judicial system to win rights that other foreigners in the former British colony enjoy. In March, the top court in the special administrative region rejected an appeal by a helper from the Philippines seeking to overturn a law banning her and other helpers from obtaining permanent residency. Hong Kong allows most foreigners who have lived in the city for seven years the right to become permanent residents—but not foreigners working as domestic helpers.
The need for cash from abroad isn't going away, and more and more countries are competing with the Philippines for many of those jobs overseas. Look, for instance, at Bangladesh. Just as companies turned off by rising prices in China have shifted cheap manufacturing to Bangladesh, the country is also becoming a new source of inexpensive domestic helpers for Hong Kong families. On Tuesday the South China Morning Post reported on a media briefing at the Bangladesh consulate held for 11 women who are the first domestic helpers from the country to work in Hong Kong. The helpers get a monthly salary of HK$4,000 a month ($515) and had to pay HK$13,000 to an employment agency back home to get their jobs. Some 4,000 Bangladeshis have registered their interest in working in Hong Kong, the newspaper reported on April 19.
Before it's here, it's on the Bloomberg Terminal.
LEARN MORE