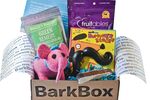 Since a pair of Harvard Business School classmates launched Birchbox in 2010 to sell beauty products through monthly shipments of curated samples, dozens of imitators (focused on everything from fishing tackle to sex toys) have cropped up. A website devoted to the stuff-in-a-box industry, SubscriptionBoxes.com, counts at least 135, including Jacked Pack, full of nutritional supplements, and Bug Out Box, for survivalist gear.
 
Tackle Grab
Monthly cost: $12 to $16
Types of goodies: 2,500 anglers subscribe for fishing lures, bait, and other gear
 
ManPacks
Monthly cost: $15 on average
Types of goodies: More than 10,000 guys get razors and underwear
 
BarkBox
Monthly cost: $19 to $29
Types of goodies: 45,000 canines get treats, toys, and grooming products
 
KnitCrate
Monthly cost: $11 to $65
Types of goodies: 400 knitters of all levels sign up for yarns and patterns
 
Plated
Monthly cost: $10+ per meal
Types of goodies: Home cooking without the trip to the grocery store
 
Panty Fly
Monthly cost: $9
Types of goodies: 10,000 women buy brand-name underwear from sporty to sexy
 
Boink Box
Monthly cost: $25 to $50
Types of goodies: Sex toys for those afraid of being seen buying them
 
Birchbox
Monthly cost: $10 (women); $20 (men)
Types of goodies: A cornucopia of beauty products for more than 300,000 homes
 
KlutchClub
Monthly cost: Starts at $18
Types of goodies: Health and wellness samples for 10,000 subscribers
Before it's here, it's on the Bloomberg Terminal.
LEARN MORE