With Steel Magnate Sharif Back in Power, Pakistan Looks to Build
Shahan Mufti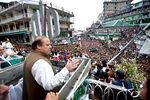 Shortly before midnight on the night of May 11, hours after polls closed in Pakistan's first democratic transition in more than fifteen years, Mian Nawaz Sharif stepped onto the balcony of his party's headquarters in Model Town, a prosperous neighborhood in the sprawling city of Lahore. To his left was his brother Shahbaz, twiddling his phone, and to his right, his daughter Maryam. His nephew Suleman stood by as did some close political associates. They were all beaming. A throng of supporters had started to march into the complex after sunset and now packed the sprawling lawn below, bopping their shoulders to a party anthem blaring out of the public address system, chanting Sharif's name.
The "Noon League," as Sharif's party is commonly known in Pakistan, is comfortably placed to form a government in Islamabad. Its leader, Mian Nawaz Sharif, is all set to become prime minister of Pakistan for the third time, after a long exile under the rule of General Pervez Musharraf and an absence from any elected office for 14 years.
"This address of mine," he spoke in his loose Lahori vernacular, "this is for the whole nation. This is for those who voted for me and also those who did not vote for me." It may have been the conciliatory remarks. It may have been the prospect of a building spree. It may have been relief. Whatever it was, the Karachi Stock Exchange would hit a record high the next day.
Sharif's election is the first of an expected wave of changes in Pakistan and in the region. The Pakistan Army chief with whom the Americans have been dealing for more than five years is scheduled to retire later this year and Sharif will be responsible, in part, for naming a successor. There are elections on the way in Afghanistan, India, and Iran. As the U.S. looks to withdraw its forces and a decade worth of equipment from Afghanistan next year, Pakistan's roads and infrastructure are going to be vital. And with Sharif, says Ayaz Amir, a former Noon League parliamentarian, "that stuff"—building, cutting deals—"runs through his blood."
He is, after all, the scion of a powerful Punjabi family, owners of the Ittefaq steel mills. Several members of the Sharif family have served as elected officials at different levels of government. During two terms as prime minister in the 90s, he oversaw the construction of hundreds of miles of eight-lane highways, initiated a new deep sea port on the Arabian sea and a dam on the Indus river, tested nuclear weapons, built airports, and flooded the streets of Pakistan with yellow taxis. He has also been accused of using these mega-projects to pad his family's fortunes. But in a country that struggles to get enough electricity, the promise of a candidate who can build is no small thing.
The headquarters of the Pakistan Muslim League (also called just Nawaz, or the Noon League) is in a well-guarded mansion, which takes architectural cues from palaces and monuments of the ancient central and South Asian kings, a cocoon of fine leather and polished wood. Despite the setting, the election didn't feet like an inheritance. Only days before, Sharif and his family were warding off allegations of corruption again. The most talked about political ad on TV, paid for by a rival party, was a captioned audio clip from what appeared to be a secretly recorded conversation between Mian Shahbaz Sharif—Nawaz's younger brother—and a high court judge. The two men spoke in clipped sentences about fixing a court judgment in favor of a Noon League loyalist. Around the same time, the interior minister from the previous government called a press conference to present what he said was evidence of money laundering by Nawaz Sharif. The former minister had let a fat stack of evidence land with a heavy thud, claiming that he would quit politics if any of his accusations turned out to be false.
Elsewhere, the country was essentially under siege. Over 100 people were killed in the month leading up to the election, most in bombing and grenade attacks targeting public rallies, election candidates, and election offices. On May 7, a little more than 72 hours before the polls, bombings targeted candidates in two separate provinces, killing more than two-dozen people. In Karachi, Pakistan's largest city, near the headquarters of the MQM party, three people died when a planted bomb exploded in the evening. Most of all this was the work of the Pakistani Taliban. While no one took its claim to "end the democratic system" very seriously, there was concern that the militants, along with other affiliated groups, would spill a lot of blood trying.
The Punjab, Sharif's home turf and Pakistan's most populous province, remained mostly free of violence. For those living in the province, who make up nearly half of the country's population and who almost always decide the shape of a new government, the election often seemed a choice between the elaborate record and offerings of Sharif and the promises of a "new Pakistan" by former sports legend and philanthropic icon, Imran Khan. Khan's party, the Movement for Justice, which emerged as the Noon League's main rival in this election, promised to free Pakistan from industrialists such as Sharif and feudal lords like the Bhuttos, whose People's Party ruled during the past five years. Khan attracted some of the largest and most fevered crowds in and outside the Punjab during his campaign, but his platform, which included land, educational, and judicial reform, proved no match for Sharif's promise of an "economic explosion."
People, it turns out, are ready for an economic explosion, especially if it includes things like decent public transportation. Sharif's younger brother, Shahbaz, who was the chief minister of the Punjab province for the past five years, inaugurated the Lahore Metro Bus service just in time for the election. It is an elevated bus network that runs some 20 miles along one of the city's main arteries, connecting Lahore's Old City to modern residential neighborhoods such as Model Town. Like many of their mega projects, it happens to use a phenomenal amount of steel, the Sharif family specialty: the footbridges are all metal; the twenty mile length of the bus lane is guarded on each side by a six foot high iron grill, encased for good measure by another, taller metal frame. The floor is made of steel.
A few days before the election, a man who works as a clerk at a government office rode the air-conditioned bus. He said that while he felt seduced by promises for sweeping change and a more "just" political system that was being promised by the Movement for Justice, he loved the fact that his commute had been shrunk from multiple hours to less than half an hour. That was reason enough to vote for Sharif. Millions of votes like his, along with millions of other votes cast along patronage lines that lead up to the Sharif family, helped the Noon League return to power. Before he stepped off the bus at the stop at Ittefaq Hospital, also constructed by the Sharif family, he offered this: "You know what the Sharifs will do if we put them in power another time? They'll put a roof over the highway." It was impossible to tell if he was serious.
Before it's here, it's on the Bloomberg Terminal.
LEARN MORE