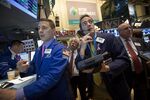 February 8, 2013 - In investing, every silver lining has a cloud. Almost all good news can be spun as bad news, and vice versa. The economy's booming? Watch out for inflation and higher interest rates. The market crashed? What a buying opportunity!

Naturally, then, the stock market's latest advances are making people nervous, with the S&P 500 up 6.3 percent so far this year. TrimTabs Investment Research estimates a record-breaking $77.4 billion flowed into U.S.-listed mutual funds and exchange-traded funds in January. Such investor enthusiasm might sound like good news, but TrimTabs points out that previous record-breaking inflows have coincided with the end of stock rallies. The previous record of $53.7 billion in February 2000 came just before tech stocks tanked.

USAA's John Bonnell warns of "investor complacency," while listing this year's challenges: higher taxes, government budget cuts, recent weak economic data and a slowdown in corporate earnings growth.

Others cite good reasons why major U.S. stock indexes are close to all-time highs. Stock valuations are reasonable, according to S&P Capital IQ global equity strategist Alec Young . "As long as profits climb again this year, even if by only 5 or 6 percent, stocks have further room to run," he writes. Ed Yardeni, president of Yardeni Research, predicts the S&P 500 could rise 16.7 percent this year.

Yardeni does admit there's a chance he could be wrong -- a likelihood he puts at 40 percent. He offers a "worry list" for 2013 that includes payroll tax hikes, higher oil prices and concerns about Spain's debt load.

In other words, hold on to your skepticism. Even if 2013 continues to be very good for stocks, it won't be without the occasional setback or scary headline.


This essay originally appeared in Bloomberg.com's weekly personal finance newsletter, Wealth Watch. Sign up here .
Before it's here, it's on the Bloomberg Terminal.
LEARN MORE