The Short Life on Fashion's Bleeding Edge
by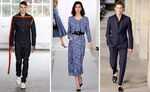 What is it with indigo?
The blue hue is in dresses by Oscar de la Renta, shirts from Hermes, sweaters from Shipley and Halmos, and pants from Duckie Brown. It's also on every couch and cushion you and your indigo jeans have ever sat on.

That's because indigo, the dye used synonymously with the color it creates, doesn't penetrate fabric fibers, but sits on top of them. With a tenuous grip on one fabric, it rubs off easily on others in a process known as bleeding. After a while the bleeding slows down, but it never actually stops.
So why does this potentially damaging fabric seem to be everywhere? Why couldn't designers choose something less likely to ruin your couch, chair, table cloth, and shirt?
One reason is there's less variety of fabrics than you'd think. "There are only a certain amount of mills in the world, and a certain amount of fabric shows," says Steven Cox, who, with Daniel Silver, designs the high-end menswear line Duckie Brown. If two designers happen to choose the same fabric, a trend is born. "Sometimes you have a design and you think it's original, and then Marc Jacobs does the exact same thing."
Lastly, there's a herd mentality at textile conventions, which is why fashion writers can later spot a trend--Mood Indigo! "If Miuccia Prada is at the indigo stand," says Cox, "everyone's going to be there."

The near-accidental quality of a trend virtually assures that it will be short lived--which sounds suspiciously like the definition of fashion. Thierry Langlais, Vice President of Operations for the fabric fair Premiere Vision, wrote in an email the popularity of indigo "is just a cyclical trend - mainly perpetuated by the chambray shirt."
Cox agrees, pointing out that if there's a proliferation of indigo this year, it probably won't be around for much longer. "If it's goth one season, it's going to be flowers the next," he says.
Then, the easiest place to find it may be on your white t-shirts.
James Tarmy reports on arts and culture for Bloomberg Muse, the arts and leisure section of Bloomberg News.
Before it's here, it's on the Bloomberg Terminal.
LEARN MORE