The Lesson of Rutgers's New Basketball Coach: Résumé-Padding Can Be Hard to Resist
By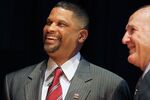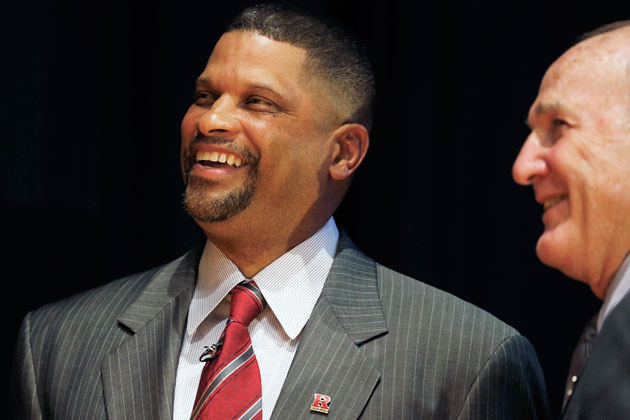 What's the deal with Rutgers? After the university fired men's basketball coach Mike Rice—who had attracted national attention for hurling balls and epithets at his players—his successor, Eddie Jordan, was outed as a résumé padder. On May 10, Deadspin revealed that Jordan, a member of the Rutgers University Hall of Distinguished Alumni, failed to accumulate enough credits to graduate from the university in 1977, as his official bio asserted.
The question is whether this matters. Jordan's failure to finish his degree doesn't appear to have hurt his professional career, a three-decade-long stretch that culminated in head coaching positions for the NBA's Sacramento Kings, Washington Wizards, and Philadelphia 76ers. It would seem he is qualified to coach a Big East team coming off a 15-16 record, which dropped its opener to the St. Peter's University Peacocks.
And he's hardly the first coach to have lied about his academic credentials. In 2011, Yale football coach Tom Williams invented a past candidacy for a Rhodes Scholarship, and promptly resigned when that claim was debunked. In 2004, Glynn Cyprien, a newly hired head coach of the men's basketball team at the University of Louisiana-Lafayette, lied about graduating from the University of Texas-San Antonio. He was swiftly fired. The greatest résumé gaffe of all was committed by football coach George O'Leary, in 2001, when he was let go by Notre Dame after less than a week in the top job. His résumé touted a graduate degree from "NYU-Stony Brook," which combines the names of two wholly separate and distinct academic institutions.
Even history's most famous football coach, Vince Lombardi—the Green Bay Packers icon who gave the sports world such enduring motivational slogans as "the only place 'success' comes before 'work' is in the dictionary"—had exaggerated details of his time as a law student at Fordham University.
According to John Challenger, chief executive officer of the consulting firm Challenger, Gray & Christmas—which advises out-of-work professionals seeking new employment—there's no difference between high-level coaches and high-level corporate executives fibbing on their résumés. It's quite common in both fields, because hypercompetitive people will do anything to jump-start their careers. And the college diploma is the cornerstone of a proper CV.
"Not getting a degree in today's era can be perceived as so embarrassing," says Challenger. "People feel that you can't get to first base if you don't have a degree. It leads them to do this. They decide to forge their résumés and then say, 'Once I'm in the job, I can show them what I can do—but I just need the lie to get through these horrendous screens.' We've seen it with CEOs, too." One recent example includes Yahoo's Scott Thompson, who falsely claimed to have a degree in computer science.
Challenger says that institutions don't conduct rigorous background checks because they're expensive. "The question is: How far do you go to find out if a college degree is valid or not? For most organizations, they just don't do this," he says. "It's a question of cost. But as these kinds of incidents proliferate and present risk for the organizations, you'll see them spend more money on it. We're seeing it now because of the transparency and the crowdsourcing of information. Think about the fan who called out Tiger Woods on a rule violation during a recent televised tournament. Everybody's watching. Years ago, you could cloak these things."
Unlike most coach-résumé scandals, Jordan's may well blow over. Rutgers is standing behind its new coach. "While Rutgers was in error when it reported that Eddie Jordan had earned a degree from Rutgers University, neither Rutgers nor the NCAA requires a head coach to hold a baccalaureate degree," read a statement. Challenger approves. "The truth is that organizations are much more interested in what you've been doing the last 10 years than what you did when you were 22," he says.
That may be true if you're the head coach. But as Yahoo Sports pointed out, Rutgers's HR department posted an opening on May 8 for an assistant coaching position for the men's basketball team. The first words in the "Job Requirements," five lines above "technical knowledge of the sport of men's basketball": "Requires a bachelor's degree."
Before it's here, it's on the Bloomberg Terminal.
LEARN MORE