The Cautionary Tale of Lord Grantham
by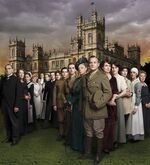 February 15, 2013 - In the third season of PBS's hit drama "Downton Abbey," the usually unflappable Lord Grantham is brought to tears by a bad investment. Against his broker's advice, he puts the bulk of his wife's inheritance in one promising Canadian railway stock, the nonfictional Grand Trunk Railway. That backfires when the railway's resident genius, Charles Hays, dies on the Titanic in 1912. By 1920, it's facing bankruptcy.

Putting everything in one stock is a rookie's mistake, one that few of us can imagine making. Less dramatic and more common is simply having too much of one's portfolio in a few investments, or primarily in one country or industry. Take the employee who keeps a significant chunk of his 401(k) in his employer's stock, or who gets his contribution matched in company stock. A setback for his company threatens both his job and his retirement plans.

The seventh earl of Grantham makes another mistake that we can learn from. He puts too much faith in an emerging market. Canada's "Great Boom" made it the Brazil or China of its day, growing at an average 6.7 percent per year from 1896 to 1912, and accelerating to more than 10 percent in 1905 and 1906, even after adjusting for inflation.

A hundred years later, the fastest-growing parts of the world look equally tempting. Emerging markets are projected to grow 5.6 percent this year, according to the International Monetary Fund. Emerging market mutual funds attracted $26.2 billion over the past year, according to Morningstar, far more than any other equity fund category. Even hotter are the least developed of the emerging markets, a category known as "frontier markets." From countries less familiar to investors such as Lebanon, Sri Lanka and Kazakhstan, the stocks in the MSCI Frontier Markets Index are up 8.5 percent this year, nine times more than the broader emerging-market index.

Unfortunately, a fast-growing economy doesn't necessarily produce great investments. Rough-and-tumble developing economies can be unpredictable and competitive – making it difficult for companies to produce profits and reward shareholders. As GMO's Jeremy Grantham (no relation to the fictional lord, of course) puts it, "The problem with growth companies and growth countries is that they so often outrun the capital with which to grow and must raise more capital."

When it comes to a hot stock or a hot country, it's wise to retain a certain aristocratic reserve.

This essay originally appeared in Bloomberg.com's weekly personal finance newsletter, Wealth Watch. Sign up here .

Before it's here, it's on the Bloomberg Terminal.
LEARN MORE