Tesla: The Stuff of Short-Seller Heartburn
by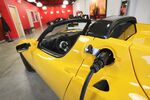 You can forgive short sellers for resenting the gee-whiz technology and improved financials that have electric car maker Tesla Motors suddenly worth almost as much as Mazda Motor. Conventional wisdom says there's no commercially viable market for ultra-luxury, all-electric vehicles, of which Tesla has just one model. The shorts were hoping for another Fisker, the Tesla rival that has stopped producing cars. You see the companies mentioned alongside that made-in-America cleantech boondoggle Solyndra.
Against the odds, Tesla's shares are up 150 percent this year—and 57 percent just this month. The company has added more than $3 billion in market value in just one great news-filled week. In the first quarter of the year, Tesla was North America's top-seller of rechargeable vehicles, beating both General Motors' plug-in Volt and Nissan's battery-powered Leaf.
All of which has drubbed those who were betting against the Tesla story, now shaping up to be a case study in the dangers of short selling. According to Bloomberg News, shorts have scrambled to buy $276 million of the shares over a week that saw Tesla post its first profit and win raves from Consumer Reports. The 19.7 million shares sold short as of May 13 were down 4 million from May 7, the day before it posted its first profit (PDF). In a short squeeze, those who bet against a stock have to race to buy it back when they are proved wrong and the shares move higher. Short-selling theoretically entails unlimited downside; while a stock can fall only to zero, there is no limit to how high it can go.
Last week, Tesla posted first-quarter net income, excluding some items, of 12¢ a share, compared with a year-earlier loss of 76¢ and an average analyst profit estimate of 4¢. In his letter to shareholders, Chief Executive Officer Elon Musk wrote: "Importantly, we are seeing orders in a particular region increase proportionate to the number of deliveries, which means that customers are selling other customers on the car. Given that we have not yet delivered any customer cars outside of North America, there would appear to be significant upside potential in Europe and Asia."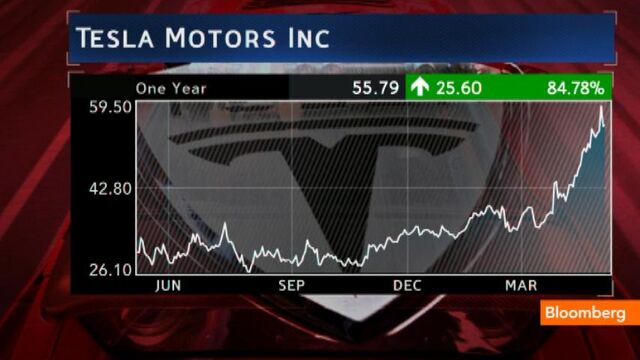 Tesla shares now trade at more than 550 times projections for earnings this year, according to Bloomberg data. The 10-year old company is already worth more than Fiat, the majority owner of Chrysler.
Consumer Reports was breathless in its review of Tesla's Model S: "There, we said it. The Model S outscores every other car in our test Ratings. … So is [it] the best car ever? We wrestled with that question long and hard. It comes close." The car scored 99 out of 100 points in the evaluation.
More fodder for short seller regret: Tesla's 2013 target of 21,000 Model S deliveries is more than the combined global volume for Ferrari, Lamborghini, and Maserati.
The latest chatter: Is Tesla management emboldened enough to sell some of its rapidly appreciated shares to raise cash, given the company's $10-billion market capitalization to tap? Would short sellers view that move as an admission of overvaluation? Or yet more proof of Tesla's staying power?
Update: Tesla revealed in a regulatory filing and statement that it will sell 2.7 million shares, worth $229 million at today's $84.84 closing price.
Before it's here, it's on the Bloomberg Terminal.
LEARN MORE