HBS to U.S.: Competitiveness Continues to Erode
Louis Lavelle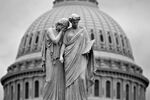 More than 200 leaders are gathering in Boston today to hear a sobering message courtesy of Harvard Business School: U.S. competitiveness is on the decline, and reversing the trend will require a herculean effort.
HBS professors Michael Porter and Jan Rivkin will present details of the latest survey of nearly 7,000 HBS alumni who—by a more than two-to-one margin—foresee a decline in U.S. competitiveness in coming years. Unsustainable federal spending, high tax rates, deteriorating infrastructure, a subpar K-12 education system, and immigration hurdles for high-skill workers were just some of the problems cited in the research authored by Porter, Rivkin, and HBS professor Rosabeth Moss Kanter.
"We know many of the steps that government and business must take to allow firms in the U.S. to win in the global marketplace while lifting the living standards of the average American," the researchers wrote in their report. "If U.S. competitiveness continues to wane, we will have only ourselves to blame."
The focus of the gathering is boosting regional competitiveness. Boston Mayor Thomas Menino is expected to speak, as is Gregory Bialecki, secretary  for the Massachusetts Executive Office of Housing and Economic Development, and David Walker, the chief executive of the Comeback America Initiative, a nonpartisan think tank that promotes fiscal responsibility.
The event is part of the HBS U.S. Competitiveness Project, which was launched last year and includes a number of research initiatives as well as regional meetings similar to the Boston gathering in New York, Charlotte, Chicago, and other cities.
Before it's here, it's on the Bloomberg Terminal.
LEARN MORE