Google I/O: Our Short Version of a Very Long Keynote
By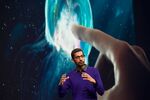 In the annals of corporate keynoteage, three hours is an extraordinarily long presentation. But Google in 2013 is a big company, so today, at its annual I/O conference for developers, the search giant filled an entire morning with news and updates to its broad portfolio of products.
The news, though manna to many of the 6,000 developers who filled the Moscone Center in San Francisco, will appear incremental and perhaps even trivial to normal, nontechnical Google users. But a few moments from the morning deserve at least a little extra attention.
Google Chief Executive Larry Page surprised the audience when he took the stage to wax about the incredible rate of recent innovation in high tech and the possibilities opening up to everyone in the industry. "The opportunities we have are tremendous," he said, his voice raspy from his recently explained medical condition. "We haven't seen this rate of change in computing for a long time, probably not since the birth of personal computing, when I think about it. I think we are all here because we share a deep sense of optimism about the potential of technology to improve people's lives."
Page estimated that Google and the larger technology industry are only at 1 percent of what is possible, "and probably even less than that."
Page then answered questions from the crowd. In separate answers, he criticized Microsoft for not embracing open Web standards and said of enterprise software maker Oracle that "money seems more important to them than collaboration." Answering a question about the Google Fiber initiative, to bring 100 megabit connections to such places as Provo, Utah, Page said: "As computer scientists I view it as sad. We have all these computers out there, and they are connected toe each other through tiny, tiny pipes that are super small."
A litany of Google execs discussed updates to its search engine and maps products and rolled out a new education application store for Android tablets that will help it compete with Apple devices in the classroom. The company also launched a new music subscription service to compete with such rivals as Pandora, Rhapsody, Spotify, and Rdio.
The music service, Google Play Music All Access, will cost $9.99 a month and enable members to stream any song in Google's catalog. It's entering a crowded market, but Google's advantage is that it can smoothly integrate its music service into the Android operating system. That's a large installed base: Sundar Pichai, Google's new Android chief, announced at the start of the keynote that 900 million phones running the Android operating system have been activated over the past five years. Hugo Barra, a vice president of the Android division, called the new music service "radio without rules."
Google's technical chops were on display in a few neat tricks on stage. As part of the company's update to its Google+ social network, Google said it was employing advanced algorithms and machine learning to improve a user's photo collection. Google can automatically fix blemishes within photos and automatically select the best pictures in a set by looking at such variables as the number of smiles in the frame. Another feature, called Auto Awesome, automatically takes multiple portraits and strings them together in a short video.
In another demo showing the live multiplayer game capabilities of the Chrome browser, five volunteers played each other on stage in a racing video game on five different devices.
The company is also improving its voice search capabilities and bringing them into the Chrome browser (voice search is already accessible from Android phones). A user can ask a question such as, "OK, Google, show me seafood restaurants in Santa Cruz," and the browser will serve up the top results. For direct questions, it will speak the answer. The service should raise the bar for other speech services, such as Siri from Apple. Amit Signhal, Google's search chief, predicted conversational voice search will one day be the standard and said, "our investment and commitment to getting there sooner rather than later is immense."
Google rolled out a significant redesign of its popular Maps tool—which millions of people use to get around and avoid asking for directions. Instead of sitting on the cloud and gradually reloading every time a user zooms in or out, Google's redesigned Maps will sit predominantly within the Web browser. As a result, users can scroll though more maps more seamlessly, street names and widths get larger depending on where you are going, and users can more easily toggle between different views, like overhead view from Google Earth, Street View, and 360 degree panoramas from inside stores, restaurants, and major landmarks.
The new Google Maps is available for preview starting tomorrow morning. By then, hopefully, Google's keynote should finally be over.