What to Expect for Chrome and Android at Google I/O 2013
Kevin C. Tofel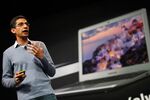 Wednesday kicks off Google's annual I/O developer event in San Francisco, where our team will provide plenty of coverage. While the conference is aimed at developers, it has often been the stage for Google to show off the latest Android releases, new tablets, Chromebooks, and even the occasional clunker product. (Anyone remember last year's Nexus Q orb?)
According to Google's Sundar Pichai—who is now in charge of Apps, Chrome, and Android—this year's I/O won't focus on devices, but instead, feature tools for developers. Pichai's comments come from a Monday morning Wired interview in which he also noted that it's not a problem—or unusual—to have Android and Chrome platforms co-existing. To that end, Pichai said, "Very few people will ask you: 'Hey, how come MacBooks are on Mac OS-X and iPhone and iPad are on iOS? Why is this?'".
I agree with Pichai's latter statement, although I previously thought we'd see more of a Chrome-Android merger this year. Now I see more shared components but not two platforms becoming one. And I think Pichai is setting up a bit of a smokescreen when it comes to devices. Here's what I expect we'll see, for both Chrome and Android, later this week:
• An updated Nexus 7 tablet. Google introduced the Nexus 7 at last year's I/O event to help spotlight its then-new Android 4.1 software. The current slate is still a nice device, but it makes sense to see a refresh. Look for a faster chip—probably a switch from Nvidia's Tegra 3 to a current Qualcomm Snapdragon—with more memory, possible LTE integration in a higher-priced model, and the chance of a full HD display. This could come in the form of a Nexus 7 HD tablet that would likely start at $249 or more.
• A new minor Android version. I can easily envision the introduction of new Android software, but I'm not expecting Android 5.0. Google is more likely to provide a minor update with new features and developer APIs. Part of the issue is the pace of change: Google has iterated Android faster than handset makers and carriers want it to. They simply can't—or are choosing not to—keep up. Android 4.0 arrived in October 2011, for example, and it took until last month for more than half of Android devices to be running Android 4.0 or better.
• Google Play Games for Android. Apple's iOS has Game Center and it's a safe bet that Android will get Google Play Games. Enthusiast site Android Police dissected early code and found support for synchronized game progress, multiplayer matchups (through Google+, of course), achievements, and more.
• A new Nexus phone? Probably not. Google's latest smartphone, the Nexus 4, isn't that old a device, having launched last October. It lacks official LTE support, so Google could put forth a new version that adds faster mobile broadband service. A completely new Nexus isn't likely. It's possible a new Motorola-branded phone will arrive—the X Fon—at I/O, but I think odds are against it. Instead that device will probably enjoy a carrier launch event because Google's hardware partners might be slighted by a non-Nexus phone launch on the I/O stage.
• A new Nexus tablet is a better bet. The Samsung-built Nexus 10 launched with the Nexus 4 phone in October, but there appears to be room for a larger model. A leaked Samsung road map points to a Nexus 11 with upgraded internals, including Samsung's latest chip, which has two quad-core processors. I could see this device showcasing the latest version of Android, if not at Google I/O, then later this year. Or what about …
• A Chrome tablet? It's improbable that an 11-inch tablet would run Chrome, but that's my moonshot prediction. Samsung already makes a Chromebook with its own ARM chip inside, so it's not a total stretch to imagine it making a Chrome tablet. If not, I still expect to see some new Chromebook form-factors make debuts at Google I/O. Perhaps a tablet with keyboard dock—something like Microsoft's Windows Surface, perhaps? Or a Chromebook with a swiveling screen for tablet-like use. Why else would Google have added an on-screen keyboard and support for screen rotation in its Chrome OS?
• A heavy dose of real apps for Chrome. Expect demonstrations of rich applications in Chrome and on Chrome OS, including those that run offline. Google has been building momentum for what it calls Packaged Apps and for Native Client apps of late. I used a Native Client game while offline last week, written in C, on my Chromebook Pixel with an Xbox 360 controller. Now I see where Google is going with its Chrome OS vision; it's not "just a browser." With the new support for app notifications, more offline app support, and these two types of applications, Chrome OS will be shown off later this week as a true desktop replacement.
• A mid-priced Chromebook could appear. It would be too early to sell, but Google could announced that new Chromebooks are coming soon to run on either Intel's next-generation Haswell chip or Silvermont, its new Atom processor. Neither of these chips is in devices yet. Both will be used in laptops and tablets before year-end, and I can see Google making a related announcement. Chromebooks with either would offer better performance and longer battery life. They would also fit the bill for Chromebook's pricing scale, between the current low-end offerings ($199 to $549) and the Chromebook Pixel ($1,299 to $1,449).
The main keynote starts at 9 a.m., West Coast time, on Wednesday. We'll be live-blogging it. Come back to check how many of these predictions turn out to be right—or wrong, for that matter. In the meantime, what are you expecting for Chrome and Android at this year's big Google event?
Also from GigaOM:
Google Now on IOS Highlights Android's Fragmentation Problem (subscription required)
With Lucky Sort Creators On Board, Twitter Is Officially a Data Company
A Boost For Brain Training: Lumosity Can Help Lift 'Chemo Fog,' Study Finds
Sandvine Report Confirms: Video Makes Bandwidth Hogs of Us All
Greentouch Details Roadmap for Wiping out 90% of Telcom's Energy Demands
Before it's here, it's on the Bloomberg Terminal.
LEARN MORE