Want the Most for Your Money? Babson Ranks Top in Business
Louis Lavelle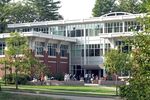 Which undergraduate business programs give you the most bang for your buck? Is it the Ivy League schools with top-ranked programs, like Cornell and Wharton? Or best-in-class state schools, with far lower costs, such as University of Virginia's McIntire or Michigan's Ross?
According to PayScale, it's neither. PayScale, which collects data from people using its online pay comparison tools, says the schools with the best return on investment are private schools that, for the most part, are not among the top-tier institutions.
At the top of the list: Babson College, a Massachusetts school that Bloomberg Businessweek ranked No. 36 in March. Graduates of Babson, PayScale says, had a 30-year net ROI of more than $1.2 million in 2013 dollars (more on the methodology in a bit). Babson was followed by Bentley University, at $919,800, and Bryant University, at $847,900. For the complete ranking, click here.
PayScale says the typical salary for a Babson grad is $56,700, and that the median salaries for all 334 Babson alumni who reported to PayScale ranged from $54,483 for financial analysts to $124,775 for corporate controllers. The median salary for alumni with 10 to 19 years of experience was $109,147; after 20 years or more, it was $128,597.
PayScale's methodology is complex, but in a nutshell what the company attempts to determine is how much graduates earn after subtracting the cost of their degrees. The calculations do not take financial aid into account. For a more in-depth description of the methodology, click here.
Join the discussion on the Bloomberg Businessweek Business School Forum, visit us on Facebook, and follow @BWbschools on Twitter.