To Pitch Oreos to New Yorkers, Mondelēz Sends 500 A Capella Singers
by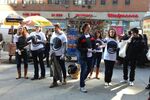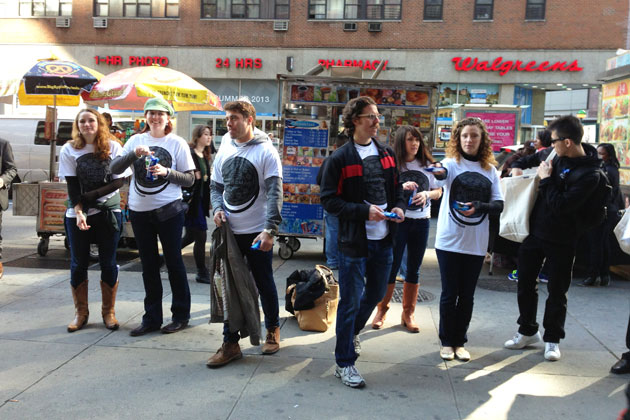 It's hard to get people's attention in New York City. Mondelēz's Oreo brand hopes a giant, feel-good a cappella choir will at least get hardened commuters in the mood for a cookie. Today, 500 a cappella singers from around the country and singer Adam Young of Owl City raided the mean streets of Manhattan with free treats and harmony, culminating in a singalong in Union Square at noon.
The stunt is part of Oreo's multimillion-dollar "Wonderfilled" campaign, which was unveiled on television Sunday during Mad Men. Owl City also sang the new 90-second jingle, and in addition to TV the campaign will include promotions on radio and online, and events in other cities including Chicago and L.A.
One of the agencies behind the campaign, 360i, was also responsible for Oreo's "Dunk in the dark" tweet during this year's Super Bowl blackout, which became a viral hit. The brand, which seems to be experimenting with new marketing tactics, also gained attention during its Twitter scuffle with AMC Theatres.
Is this all just too saccharine for New Yorkers? The city isn't the set of Glee after all. At least it's of a piece with the brand. "Double-filled Oreos are pretty saccharine sweet," says C. Samuel Craig, professor of marketing at New York University's Stern School of Business.
So far, the reaction to the a cappella concert on Twitter has been mixed, from:
and:
to:
Whether a musical campaign is a good strategy in New York is another question. The city and the subway stations beneath it are already bursting with unusual acts—from mariachi bands to opera duets and break dancers. Some busy locals have grown to either ignore or dislike all the clamor.
Working in its favor is the Oreo event's location and size. "Union Square is a place where people naturally congregate, so you'll reach them. The added benefit is the news coverage," says Craig. "The challenge for Oreo is it's a 100-year-old brand. How do you keep it fresh, relevant, exciting? This is one way to break through the clutter."
Before it's here, it's on the Bloomberg Terminal.
LEARN MORE