Third Point Said to Urge Sony for Entertainment IPO
Carol Hymowitz, Mariko Yasu and Robert Fenner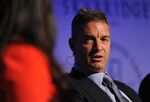 Billionaire Daniel Loeb's bid to break up Sony Corp. will need to overcome a history of failed efforts by activist investors in Japan.
Loeb's Third Point hedge fund asked Sony, which had seen its market value shrink almost 90 percent from its peak, to sell as much as 20 percent of the entertainment business in an initial public offering and focus on its struggling electronics unit, according to a letter to Chief Executive Officer Kazuo Hirai. The entertainment business isn't for sale, Tokyo-based Sony said. The stock rose to its highest in almost two years.
While Loeb successfully pushed for a management shakeup at Yahoo! Inc. last year, efforts by U.S. investors from T. Boone Pickens to Cerberus Capital Management LP to wring higher returns from Japanese companies have met with limited success.
"In Japan, you're dealing not just with a different governance system, but almost a different form of capitalism," said Rakesh Khurana, a professor at Harvard Business School who has studied such efforts. "Japanese companies try to balance the interests of finance, labor and government, while the U.S. in recent decades has become investor-centric, so raiders and activists are more tolerated."
Sony shares rose 10 percent to 2,072 yen at the close of trade in Tokyo, the highest level since July 2011. The stock has more than doubled in price this year.
Staggered Board
Sony's staggered board could further complicate Loeb's efforts, said Charles Elson, director of the John L. Weinberg Center for Corporate Governance at the University of Delaware.
"With a staggered board, just a third of directors are up for election each year, so it takes two years to take over the board," said Elson. "And in Japan's well-ordered, hierarchical society, those who challenge from outside aren't viewed as positively as those from within."
Even so, Sony's international image and reputation for being open to foreign ideas, including having a non-Japanese CEO until recently, mean Loeb has a chance to make an impact, said John Buchanan, who co-authored a study of 49 shareholder initiatives between 2000 and 2008 at the Centre for Business Research at Cambridge University.
"It would not surprise anyone if it suddenly started having international-style problems with activists taking positions," Buchanan said.
Activism in Japan dates back to at least 1991, when the oilman Pickens acquired a 26 percent stake in Koito Manufacturing, an auto parts dealer affiliated with Toyota Motor Corp., and tried to obtain a board seat. Pickens ended up abandoning his quest, and selling the stake at no profit, after Koito spent the equivalent of $4.4 million to block his efforts, the Wall Street Journal reported at the time.
Deja Vu
Almost two decades later, a similar scenario played out at Sapporo Holdings Ltd., Japan's fourth largest brewer. Warren Lichtenstein's Steel Partners sold its entire stake in 2010, held for some six years, after failing in efforts to win board seats and get the brewer to cut capacity.
Seibu Holdings Inc. President Takashi Goto said last month he won't offer "any concessions" to New York-based Cerberus Capital Management LP, the hotel and rail operator's biggest investor, in a dispute over the private equity firm's proposals.
An IPO would make Sony easier to understand while also making the company more vulnerable to swings in the consumer electronics industry, said Hideki Yasuda, an analyst at Ace Securities Co. in Tokyo.
"I'm for a spinoff. Sony has many segments, so it's getting difficult to figure out what Sony is," Yasuda said. "However, there is no possibility that Sony would accept the suggestion. It would be unstable if Sony only had the electronics unit."
Standing By
Third Point, which holds 115 billion yen ($1.1 billion) of Sony shares, said it can underwrite a rights issue for as much as 200 billion yen to support the IPO, according to the letter. The hedge fund manages assets of $12.9 billion.
While a weaker yen, job cuts and blockbuster movies like "Skyfall" have helped Hirai return Sony to a profit after four years of losses, the $18.7 billion company's smartphones and flat-panel TVs are still being battered by competition from Samsung Electronics Co. and Apple Inc.
Sony's motion picture unit, which includes the Columbia studio, accounted for 26 percent of operating income in the year ended March 31 while the music division, featuring Adele and Bruce Springsteen, represented 20 percent, according to data compiled by Bloomberg.
'Important Contributors'
The value of Sony would rise if the entertainment business was listed, Third Point said in the letter. Earnings before interest, taxes, depreciation and amortization at the entertainment unit could advance by 50 percent if it reached typical industry profit margins, potentially increasing Sony's market value by 625 billion yen, or 540 yen a share, the fund said. That would equate to about a 29 percent gain based on yesterday's closing price of 1,877 yen in Tokyo.
"The entertainment businesses are important contributors to Sony's growth and are not for sale," Sony said in an e-mailed statement. "We look forward to continuing constructive dialogue with our shareholders as we pursue our strategy."
Third Point declined to comment. The New York Times reported Third Point's proposal earlier.
Sony's U.S.-traded shares advanced 9.9 percent to $20.76 at the close in New York, the most since February. The stock has risen 85 percent in 2013.
Margin Boost
Sony, which invented the Trinitron cathode-ray tube TV in the 1960s and began selling the Walkman portable music player a decade later, saw its market value reach more than $120 billion in 2000. The company failed to stem share-price declines that began in 2000 after Welsh-born U.S. citizen Howard Stringer became Sony's first non-Japanese CEO in 2005. Stringer, who remains chairman, was succeeded by Hirai last year.
A separation would allow the entertainment unit, which produces "Breaking Bad" for television and has scheduled "Spider-Man" and "Robocop" movies for release in 2014, to grow and to improve profit margins, according to Brian Wieser, an analyst with Pivotal Research Group in New York. Under its parent, the unit's value is hidden from investors, he said in an interview. He said it could fetch as much as $10 billion.
Hidden Gem
"The challenge is, they have this business unit that's culturally separate and yet forced to behave in ways that are contrary to their nature," Wieser said. "You have what have been fantastical notions of synergy which haven't overcome significant cultural and business divides."
Sony's electronics division has struggled with shrinking market share as consumers shifted to mobile devices made by Suwon, South Korea-based Samsung and Apple of Cupertino, California. Samsung's smartphones outsold Sony's 7-to-1 last year, and its flat-panel TVs generated more than triple Sony's revenue.
"Many casual observers would be surprised to learn that while Sony is electronics, much of its current value is derived from a hidden gem -- Sony's Entertainment division," Third Point said in the letter. "Like many conglomerates we have invested in previously, Sony has two strong businesses facing different challenges side by side, each obscuring the other's true worth."
Third Point said in the letter that it would accept a seat on Sony's board of directors if offered one.
Sony this month named three new candidates for its 13-member board. They will replace four retiring directors, including Stringer. Shareholders will vote on the new board at the company's June 20 annual general meeting.
Yahoo Dust-Up
Loeb, 51, is a director of Yahoo and his fund is the biggest investor in the Web portal with a 6.7 percent stake, according to data compiled by Bloomberg. He was instrumental in pushing for the ouster of CEO Scott Thompson, which paved the way for the appointment of Marissa Mayer in July 2012.
Loeb had criticized Sunnyvale, California-based Yahoo's management, including a decision to rebuff a takeover offer from Microsoft Corp., and pointed out discrepancies in Thompson's academic record. He began a proxy battle to shake up the board and remove CEO Thompson in May 2012.
In January, Third Point took an 8.2 percent stake in Herbalife Ltd. amid allegations from Bill Ackman's Pershing Square Capital Management LP that the direct seller of nutrition shakes was a pyramid scheme.
Loeb's fund also owns stakes in Japan Tobacco Inc. and Virgin Media Inc., according to its monthly report for April.
Sony last week forecast a 16 percent increase in profit as it rolls out new Xperia smartphones and Bravia TVs to recapture market share lost to Samsung. The company expects to sell 16 million TVs this fiscal year, up from 13.5 million, as it focuses on ultra-high definition screens that offer resolution four times sharper than conventional models.
Sony reiterated its target for the TV operation to post a profit this year after racking up 800 billion yen in losses since 2004.
Before it's here, it's on the Bloomberg Terminal.
LEARN MORE