The Secret to Happiness: An MBA?
Louis Lavelle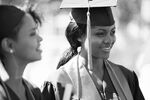 Does an MBA make you a happier person? Reading the results of a new survey by MBA50.com, it's hard not to come to that conclusion.
MBA50.com, a website that covers 50 top business schools, surveyed 1,100 current students from 12 of the world's leading business schools and asked them three questions: How happy were you 12 months before you started your MBA program, how happy are you now, and how happy do you think you'll be after you graduate?
The results show a clear happiness progression. On a scale of 1 to 10, 1 being extremely unhappy and 10 being extremely happy, the MBA students reported that they weren't exactly giddy with anticipation before starting their programs (5.98), but got significantly happier once they started (7.71) and will be downright blissful after graduation (8.53). MBAs in every world region save one reported increased levels of happiness in school and after graduation; those in Australia Pacific will get a little crankier after graduation for reasons not explained.
The happiest students of all were in the U.S. and Canada (8.3). The most miserable: those in Central and South Asia (7.68) followed closely by Western Europe (7.72) where double-digit unemployment in Spain and Greece must have many worried. Asked what aspect of their MBA programs made them the happiest, 42.2 percent said "self-development" followed by career progression (19 percent) and the pleasure of learning (11.6 percent). Financial reward (2.7 percent) came in a distant seventh.
There's been an abundance of academic happiness research in recent years, much of it by economists, and plenty of debate over its validity. Even researchers who study this stuff will tell you it's best to take any findings with a big grain of salt.
Naturally, gaining acceptance to a top MBA program, and ultimately graduating, would increase happiness—but wouldn't achieving any big goal such as starting a family or getting a job? Sure, the experience of attending an MBA program can be happiness-inducing. For one thing, it's a two-year break from work. You're surrounded by like-minded individuals. And you're doing something you find interesting. What's not to like?
Join the discussion on the Bloomberg Businessweek Business School Forum, visit us on Facebook, and follow @BWbschools on Twitter.