Patton Boggs's Fight Against Chevron Continues
Paul M. Barrett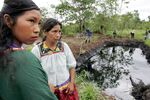 Accused of outright fraud in its pursuit of a massive pollution case against Chevron, the law firm Patton Boggs has embraced the jurisprudence of Tom Petty: It won't back down.
This defiant stance distinguishes Patton Boggs from some of its former allies, who in recent weeks have abandoned the fight against the oil company.
In past dispatches, I've chronicled how the battle over who's responsible for cleaning up a Rhode Island-sized swath of the rain forest in Ecuador has become a legal bloodbath spanning two decades of proceedings in five countries (Ecuador, U.S., Canada, Argentina, and Brazil). In February 2011, poor Ecuadorian farmers and indigenous Indians represented by American lawyers won a verdict against Chevron now valued at more than $19 billion. The U.S.-based multinational contends, however, that the judgment stems from an extortionate conspiracy and refuses to pay. Instead, it has launched a vigorous legal counterattack against the lawyers representing the plaintiffs—including Patton Boggs.
The oil company's main law firm, Gibson Dunn & Crutcher, filed papers in federal court in New York on May 10 formally accusing Patton Boggs of helping to engineer and cover up the "ghostwriting" of the February 2011 judgment, among many other misdeeds. Chevron seeks unspecified compensatory and punitive damages from Patton Boggs.
Patton Boggs, a Washington-based firm that specializes in trade relations and lobbying, is not used to being publicly accused of deceit by a firm such as Gibson Dunn, a fellow member of the elite corporate legal fraternity. On Monday it fired back in a statement:
Chevron's proposed complaint against Patton Boggs is perhaps the starkest example yet of how Chevron will use its limitless resources to intimidate and harass anyone that dares to help the Ecuadorian plaintiffs in their 20-year battle for justice. This cynical strategy will not work.  We are proud that we have helped the indigenous and farming communities that have been so adversely impacted by Chevron's actions. Patton Boggs has acted conscientiously, ethically and in good faith at all times since becoming involved in this case in 2010, and will not be intimidated by Chevron's scare tactics. We will continue to zealously represent our clients and will not stand by idly and allow Chevron to disrupt our work and tarnish our reputation.
In contrast to Patton Boggs's tough stand, other attorneys on the plaintiffs' side have recently run up the white flag of surrender, complaining that they haven't been paid in months and are no longer willing to endure what they describe as Chevron's no-holds-barred litigation style. One of the departing lawyers, John Keker, a noted white-collar defense attorney who represented Steven Donziger, the lead American plaintiffs' lawyer, said the pollution case "has degenerated into a Dickensian farce."
That's probably the one thing that everyone involved in the debacle can agree on.
Before it's here, it's on the Bloomberg Terminal.
LEARN MORE