business
New Wake Forest B-School Building Set to Open
By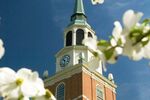 Incoming business students at Wake Forest University will have a new building to call their own this fall. The school expects to move faculty and some master's candidates into Farrell Hall starting as soon as July.
The four-story building on the north side of campus features a 400-seat auditorium, 18 classrooms, and an 8,500-square-foot "living room." Construction on the project started two years ago and was partly funded by a $10 million gift from former Annaly Capital Management Chief Executive Officer Michael A.J. Farrell, who died of cancer at age 61 in October, and his wife, Mary. The Farrells' son graduated from the university in 2010, and at the time their gift was received it was the largest commitment ever for the Wake Forest Schools of Business.
The impetus for the project was to bring "the graduate and undergraduate programs in one building," says school spokeswoman Stephanie Skordas. Currently, Wake Forest's undergraduate program is housed in Kirby Hall, which is separated from the graduate programs in Worrell Professional Center by the university's athletic center, gymnasium, and tennis stadium.
Michael Farrell told Wake Forest in 2010: "This is the largest gift we've given, and I think, importantly, from the perspective of our family, it is probably the only project we would ever put our name on."
Farrell built Annaly Capital Management into the world's largest mortgage real estate investment trust. At the time of the gift, the Farrells said naming the building was a tribute to Michael's father, who worked as a maintenance engineer for the New York City Transit Authority.
Join the discussion on the Bloomberg Businessweek Business School Forum, visit us on Facebook, and follow @BWbschools on Twitter.
Before it's here, it's on the Bloomberg Terminal.
LEARN MORE