MBA Follies: An End-of-Semester Laugh
By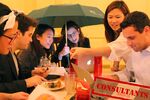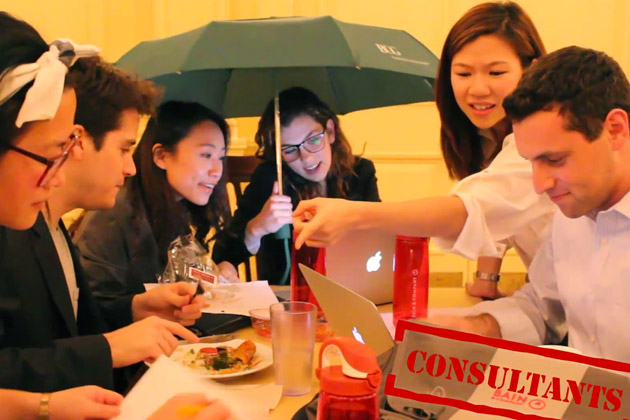 In addition to mastering Excel, MBA students also sing and dance and write comedy sketches. These soft skills typically come to the fore in the spring, when a handful of student groups put on revue shows leading up to finals and graduation.
This year's productions included Wharton students struggling to assemble Ikea furniture, a parody of the 2004 film Mean Girls set at the Harvard Business School, and a Cornell student under the impression that he is interviewing with Bain, only to realize he's actually interviewing with Bane, the masked villain from The Dark Knight Rises. (Rush Limbaugh suggested the film's creators named the villain as a potshot at then-presidential candidate Mitt Romney.)
Here are some highlights from this year's MBA follies season:
University of Pennsylvania's Wharton School
A clip from the 2013 Wharton Follies imagines how MBAs from Wharton, Stanford, Northwestern, Harvard, Chicago, and INSEAD might assemble an Ikea Malm bed. The Wharton cohort, of course, has a master plan. The Stanford team uses one fewer wooden peg to reduce Brazillian deforestation, while members of the Kellogg team lament their rejection from all the Ivy League schools. The Harvard team wonders if it should ditch the Ikea bed and "buy a real one from West Elm," while a Booth team member hangs himself because of "overly quantitative classes" and the INSEAD effort ends in a Euro-style trance party.

Harvard Business School
HBS students wrote and directed Mean Boys & Girls, a parody of 2004′s Mean Girls, which follows cool-kid clique the Plastics and the attempts by new girl Cady (Lindsay Lohan) to fit in.
In the HBS version, Cady, an innocent student from Canada, is warned about vicious cool-kid clique, the Profits. The group consists of HBS students "Bjorn Hans," who is "so Euro, he calls football soccer, to be ironic," "Gretchen Wieners," who is "so dumb, she's trying to store her Prada shoes in the cloud" and "Reggie George," who outsources homework to professors at Harvard Law.

Cornell University's Johnson Graduate School of Management
In an interview with Bane/Bain, the masked recruiter questions an MBA candidate about how he will help Bane/Bain's cause. We later learn that this cause is to liberate New York. The recruiter realizes he made a mistake when the candidate tells him he's at Cornell's Johnson school in Ithaca, N.Y., not Cornell's Johnson tech campus in New York City.
In other clips, you'll find an New York University student rap/rhyme "onion pizza" with "Credit Suisse," a Michigan parody of  TV spots featuring "Terry Tate: Office Linebacker" and a Darden ode to Dos Equis's "Most Interesting Man in the World."
Join the discussion on the Bloomberg Businessweek Business School Forum, visit us on Facebook, and follow @BWbschools on Twitter.