Jerry Brown Stays Stern on California's Budget Surplus
By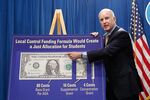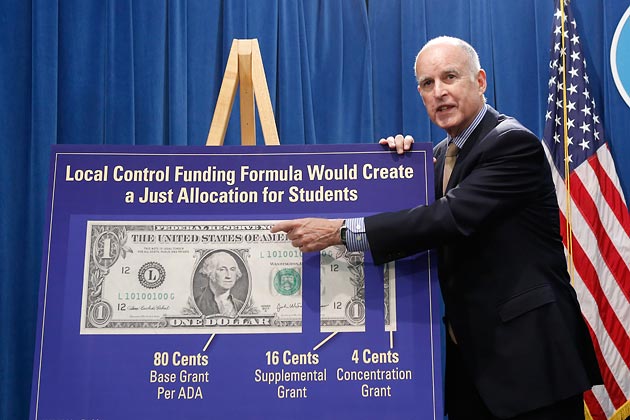 Releasing a new budget proposal Tuesday, California Governor Jerry Brown didn't bask in the glow of the $850 million budget surplus he predicts for the end of next year. Despite the bounty, Brown's new budget preaches restraint, focusing on prioritizing education spending and paying down debts.
As Joel Stein wrote in our recent cover story, Brown's "unsentimental, grown-up leadership" is chipping away at the state's most intractable problems. In November, California listened to Brown and passed a $6 billion tax hike, largely through an income tax on the wealthy (though it also included a sales tax increase that everyone pays). In January, Brown proposed a budget that had long been unthinkable: A boost in collected and projected taxes let the state run a surplus.
In California, the governor first proposes a budget in January, and then updates it in what's called the "May Revise," which is based on new revenue and economic outlooks. The legislature then has until June 15 to pass a final budget that the governor will sign. Brown's "May Revise" trims spending slightly, from $97.7 billion in the January proposal to $96.4 billion now. He did this in part because the federal government didn't extend the 2 percent payroll tax reduction that expired in January and he doesn't want the state to bank on income that won't be there later.
Now that the state isn't in dire straits, Brown's new budget (PDF) gives an additional $2.9 billion for K‑12 schools and community colleges, and it focuses on prioritizing how the state funds education. If Brown's budget is approved, school districts would get more flexibility in how they spend their money; controversially, the formula for divvying up funding would become more progressive. Brown wants 80 percent of school funding to be split on a standard per-student basis, which would be the same across the state, but the remaining 20 percent will be focused on funding schools and districts with higher portions of students who are poor, in foster care, or are English-language learners.
The budget also tries to knock down what Brown calls the "wall of debt," built by borrowing and budget tricks state legislators used over the years to "balance" the budget. The wall of debt totaled about $35 billion in 2011, and Brown's budget aims to reduce that to $5 billion by the end of the 2016‑17 budget year.
With the focus on education and paying down debts, other problems in the state go unaddressed. State courts, for example, have had to dramatically pare back services and delay cases; they won't get extra funding. The state prison system, which is fighting court orders to improve medical care or reduce its number of inmates, won't get more money, either.
Brown now heads into a month of budget negotiations with state legislators, who have already hinted they'd like to see more spending. Of course, as Brown has reminded lawmakers, he must approve any final budget.
Before it's here, it's on the Bloomberg Terminal.
LEARN MORE