Hong Kong's Anti-Graft Agency Investigates Former Head
Simon Lee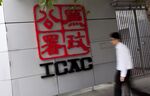 Hong Kong's anti-graft agency will investigate its former head amid allegations of corrupt practices and misconduct after he spent more than $100,000 on gifts and travel during his term.
Timothy Tong, who headed the Independent Commission Against Corruption from 2007 to 2012, will be investigated by Simon Peh, who succeeded him in July, the agency said. It's the first publicly announced probe of a current or former head since the ICAC was founded in 1974.
Tong spent at least HK$218,000 ($28,000) on gifts, including a HK$4,140 ornament given to the Supreme People's Procuratorate of China, the ICAC said last month. That led to criticisms that his actions undermined the reputation of an agency credited with rooting out corruption in Hong Kong, a former British colony that returned to Chinese rule in 1997.
Together with spending including HK$757,921 on 34 trips, 19 of them to the mainland, the disclosures seriously affected the credibility of the ICAC and the morale of its staff, local newspaper the South China Morning Post cited a former deputy commissioner at the agency saying earlier this month.
High Profile
Hong Kong lawmakers and Chief Executive Leung Chun-ying earlier said they will review spending at the ICAC under Tong, who was appointed to China's top political advisory body this year. Four calls to residential numbers listed in Tong's full name in the telephone directory weren't answered today. He said earlier this month he would cooperate with investigations as needed, according to the Post.
The ICAC pursued a number of high-profile investigations under Tong including arresting former Chief Secretary Rafael Hui in March 2012. Hui and the co-chairmen of Sun Hung Kai Properties Ltd. Thomas and Raymond Kwok have pleaded not guilty to corruption charges in that case.
To ensure the ICAC's independence, the commissioner reports directly to the city's chief executive.
Hong Kong ranked number 14 on Transparency International's Corruption Perceptions Index in 2012, higher than the U.S., U.K. and France. China was placed 80th.
Tong was last year given Hong Kong's second highest award, the Gold Bauhinia Star, for 39 years of government service. Before taking over the ICAC, he had been commissioner of customs and excise and deputy secretary of security.
"He has made sterling contribution in upholding Hong Kong as a fair, just, stable and prosperous city through effective law enforcement, corruption prevention and education," the government said in announcing his award last year.
Before it's here, it's on the Bloomberg Terminal.
LEARN MORE