Georgia Tech Entrepreneur: Having Her Cake and Selling It Too
Francesca Di Meglio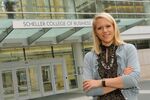 Christine Elisabeth Proctor, who launched Christine's Cakes when she was 14, has a delicious wish for her classmates at Georgia Institute of Technology. She wants them to realize their startup dreams just as she did with her cake business.
Her plan is to help unite students from different schools through the Scheller Society of Entrepreneurs, which she founded and officially launched in the spring. So far, more than 100 people subscribe to the newsletter, and 30 people are active, dues-paying members, says Proctor, who is a junior at the Scheller College of Business and is concentrating on marketing and pursuing a certificate in entrepreneurship.
In addition to networking, some meetings of the Scheller Society have featured guest speakers, including Bill Nussey, chief executive of Silverpop, a digital marketing technology company in Atlanta where Proctor is an intern. That meeting attracted a class of MBA students. Of course, they might have been there for the refreshments, which included cake balls made by the club's founder.
Proctor creates 15 cakes from scratch and delivers them to clients each weekend all by herself. She recently spoke with Bloomberg Businessweek reporter Francesca Di Meglio. What follows are edited excerpts of their conversation:
How did you end up starting a cake business at such a young age?
I made my sister a cake for her graduation party. I whipped up a chocolate cake with white chocolate raspberry mousse and chocolate ganache filling and topped it with white buttercream icing. I decorated it in neon green with pink polka dots and put my sister's name on it. It was a huge hit at the party, so I decided to start selling them. First, my mom's friends bought them. Then I created a website and a Yelp site. When I was in high school, I got into branding, and everything had a green, pink, and white logo. It was very me. My personality is in everything I do.
I want to give clients a dessert like they'd get at a nice restaurant and just the way they want it. I almost have a sixth sense. I meet clients and ask if they are a vanilla or chocolate person. From there, I can tell what cake you want. There's complete personalization. That's what it's all about.
Are you planning to keep up with the business after graduation?
I'm being pulled in two different directions. I've worked only for myself for about six years. When you're working alone, there's only one opinion. I'd love to get someone's critical feedback. That's how I grow. I'd love to work for Coca-Cola, whose customized marketing appeals to me and is similar to what I tried to do with my cakes, and then maybe restart the cake business.
Still, the business is doing very well. I'm not sending out e-mail blasts anymore, but I still get a lot of hits on the Internet. About 50 percent of the calls I receive for cakes are from new clients, and 50 percent are from returning customers. It's scary, because I think I should take this on, but I also want to finish school. I've done one couple's engagement cake, wedding cake, and their son's second-birthday cake. It's nice to make a product that people live their lives around.
What is your hope for the entrepreneurship club you've started?
I'd like to see 50 active members. I'd love to see students collaborate and get a business off the ground. I enjoy networking in Atlanta because I lived here throughout my childhood, and I've already helped three members get internships. I want to show people that even if you're an entrepreneur, you need experience in the business world. If you don't reach out for help, your business won't reach its full potential. I'd like to educate people that it's OK to work for a company, it's OK to share your ideas.
Join the discussion on the Bloomberg Businessweek Business School Forum, visit us on Facebook, and follow @BWbschools on Twitter.