Facebook Mobile Misadventures Continue
by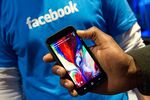 Remember the Facebook Phone? OK, it wasn't actually a whole phone from Facebook, but it was an Android phone (the HTC First) that Facebook had "forked" and equipped with Facebook Home, an all-FB, all-the-time user interface. And maybe you don't entirely remember it, for two reasons: It was pretty underwhelming, and no one ever bought one.
Well, maybe someone did, but clearly not in any great number. Which is why the HTC First is on the ropes. According to tech site BGR, AT&T is looking to cut the phone from its roster. Sales have been so poor since the April release of the phone that the carrier initially dropped the First's original price of $99 (with a two-year contract) to 99 cents one month later.
Not only is the hardware tanking, but the whole Facebook Home experiment seems to be flailing. According to Ars Technica, reviewers of the downloadable interface are trashing it on Google Play, where Home is sold.
Why has this turned out so badly? If you ask Benedict Evans, who covers the mobile industry for Enders Analysis, the reason is that Facebook has misread the mobile experience. "One of the big complaints from users was that Home upended the traditional Android environment with its widgets and app folders," he says. "Those all disappeared when you installed Facebook Home."
But Home's problems go deeper than a simple design fix. Facebook may be a large part of a user's mobile experience, but it may not be the only experience people want to have. Evans refers to the launch event back in April: "Think about the photo stream they showed at the demo: All pictures of twentysomething Facebook engineers who've been attractively photographed at the beach." The average user's reality, Evans says, is far different. "Most people's Facebook photo feeds are full of murky shots of half-eaten plates of food, so they may not want that crawling across their screen."
Perhaps Facebook Chief Executive Officer Mark Zuckerberg was wrong when he said Facebook wanted to design a phone around "people, not apps," adds Evans. "The whole of the past five years is about more than people. It's about adding other stuff like games, apps, and other experiences."
Facebook has clearly solidified its position on the desktop. Google+ isn't going to displace it anytime soon. But on mobile, that same future is far from certain. Given the rise of other social apps like WhatsApp and Kik—which focus on messaging but really are additional social networks—Facebook has to worry that mobile users will turn away from one giant social network and use specific apps for music, photo sharing, and other purposes. Those apps can easily connect you to people you know, since your phone already has a contact list of your friends, family, and colleagues. "Your contact list is already a social graph," says Evans.
Before it's here, it's on the Bloomberg Terminal.
LEARN MORE