Currency Manipulation No Strategy Trigger at Norway's Oil Fund
Stephen Treloar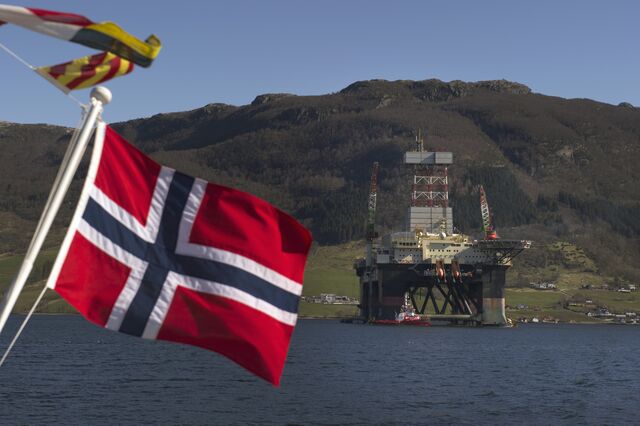 Norway's $740 billion sovereign wealth fund, the world's biggest, said efforts by central banks and governments to manipulate exchange rates through excessive stimulus aren't triggering a shift in its investment strategy.
Unprecedented monetary easing from Washington to Tokyo has provoked warnings from investors and even central bankers that the measures are fueling market imbalances. So far this month, central banks overseeing a quarter of the world's gross domestic product have lowered rates. Policy makers, including Danish central bank Governor Lars Rohde, have warned the steps risk distorting asset prices and fueling bubbles.
"We haven't adjusted strategy because of that," Trond Grande, deputy chief executive officer of Norges Bank Investment Management, said yesterday in an interview in Foerde, Norway. "These are unconventional measures and unconventional means, by definition, that you are uncertain of the outcome so that's always a concern when you try new things."
The oil fund returned 5.4 percent, or 219 billion kroner ($37.7 billion), in the first three months of the year, driven by an 8.3 percent gain in its equity holdings. The investor, which derives its capital from Norway's oil wealth, is mandated to hold 60 percent in stocks, 35 percent in bonds and 5 percent in real estate, while allowing for fluctuations. It mostly follows global indexes and has some leeway to stray from those benchmarks.
Surging Stocks
Record-low central bank rates have fueled stock markets, with the Standard & Poor's 500 Index setting a record this week while the Dow Jones Industrial Average last week climbed to 15,000 for the first time. In Europe, stocks have also risen, while Japanese equities jumped after the yen fell to its weakest level against the dollar in four years.
Some of the world's biggest investors have sounded the alarm. Pacific Investment Management Co., home to the world's biggest fixed-income fund, said in a report this week the global economy is undergoing a "stable disequilibrium" that could end in financial turmoil, greater social tensions and beggar-thy-neighbor national policies. Encouraged by "hyperactive" central banks, investors are underestimating the dangers and pushing financial markets higher, Pimco Chief Executive Officer Mohamed El-Erian said in the report.
Yngve Slyngstad, the oil fund's chief executive officer, warned last month the current upbeat mood in global stock markets may not last even as low rates sap bond returns.
Biggest Currencies
Europe's biggest stock investor, which got its first capital injection in 1996, is in the middle of a strategy shift to capture more emerging-market growth and meet a 4 percent return target. It has added asset classes such as real estate while rejigging its bond portfolio to help returns and safeguard the wealth of Western Europe's largest oil exporter.
During the first quarter, the fund reduced bond holdings in the world's four major currencies, the yen, the dollar, the euro and the pound, to 80 percent from 90 percent a year earlier, it said last month. It cut investments in government bonds in Japan, Austria and France, while increasing its investments in the U.S., the Netherlands and Germany.
Norway generates money for the fund from taxes on oil and gas, ownership of petroleum fields and dividends from its 67 percent stake in Statoil ASA, the country's largest energy company. Norway's oil fund invests abroad to avoid stoking domestic inflation.
Before it's here, it's on the Bloomberg Terminal.
LEARN MORE