CIOs and Marketers Make Tense Allies in Tech
by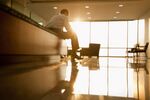 Harvey Nash put out its 15th annual CIO survey on May 14. While few will be surprised to learn that the guy who controls IT spending (92 percent of the 2,029 respondents were men) is looking to be more strategic and invest more in mobile and cloud technology, a few trends stand out.
First is the complex relationship between the chief information officer and chief marketing officer. While respondents say IT's weakest relationship in the company is with the folks in marketing, the two functions have more in common. Both want better capabilities to handle big data and new tools to be more strategic. But the CMO's team is an irritant in that it's fueling the growth of shadow IT.  Marketers are often first to pick up the latest shiny object, whether it's a new device at work or a software program that gets slapped on top of existing IT. Look for the CIO and CMO to increasingly work together as they try to convert their roles from cost centers to potential boosts to the bottom line.
The urgency of that task is underscored by the fact that only 30 percent of CIOs received a pay rise over the past 12 months, with even fewer seeing a rise in their bonus. While that might reflect the realities of a sluggish economy, it also suggests the CIO role is not as highly valued at the top. ("Here's my iPad; can't you just hook it up?") Employers take note: Some 27 percent of all respondents say they plan to switch jobs in the coming year.
The good news is that few now bother to resist the forces affecting their jobs, whether it's the move to cloud technology or the need to equip a mobile workforce. That's not to say it's easy, but living with chaos has become the new norm. While 22 percent of respondents say they've lost control over some tech assets, the vast majority see more opportunity to innovate. Here's a link to the U.S. results (PDF), with the full study available on the company's website.
Before it's here, it's on the Bloomberg Terminal.
LEARN MORE