At Wharton, Searching for the Next Foodie Paradise
Francesca Di Meglio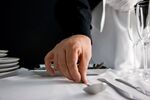 Foodies uncertain as to where to get the next great meal can now turn to a team of students at University of Pennsylvania's Wharton School for advice. As part of the Lauder Institute's Gastronomy & Global Cities Project, students on May 9 launched a website featuring extensive data that helps the general public locate up-and-coming cuisines by geography, including the best restaurants, along with insights for restaurateurs and city planners seeking locations to develop new eateries.
The Lauder Institute is a dual-degree program whose students earn an MBA from Wharton or a JD from Penn Law, plus an MA in international studies from the university's School of Arts & Sciences. Students in this program immerse themselves in a foreign language and spend two months studying abroad.
For one group of students, this means uniting their interest in food, culture, and business to achieve two main objectives: determining global cities that are gastronomically developed and identifying the next great culinary destinations. The goal is to offer public policy prescriptions that help foster tourism to a particular region, says Lisa Lovallo, a Wharton and Lauder student who worked on the project and graduated last weekend.
Specifically, the students studied the history of high-end gastronomy, challenges faced by those in the industry, and how public policy affects the food scene in Singapore, Dubai, and São Paulo. They conducted in-person, on-site interviews with executive chefs, restaurateurs, and gastronomy/tourism departments in those regions.
After compiling data on 200 cities, the team concluded that four factors influence a region's gastronomical success: the presence of fusion cuisines and scoring sufficient numbers of meetings or conferences per year, hotel rooms on offer, and air passengers arriving annually.
Restaurateurs might be interested to know, Lovallo says, that the students have also determined the next cities destined to be foodie havens: Istanbul, Geneva, Barcelona, Amsterdam, and Bangkok, in that order. If cities want to grow tourism through gastronomy, they should develop food festivals and farmers markets, increase the number of cooking schools and recreational classes, and open food-related facilities such as breweries and farms, says Lovallo.
Lovallo says the project began because students the previous year had engaged in similar work but hadn't organized their research in a way that could be easily shared. This year's students assembled research that can be shared and should be relevant to a diverse group ranging from foodies to city planners. The idea is for future Lauder students to pick up where this team left off by adding cities to the analysis, she adds.
There won't be a problem finding people to continue the work, says Lovallo. "Food is one of those things everyone relates to," she says. "It's a way to unite people."
Join the discussion on the Bloomberg Businessweek Business School Forum, visit us on Facebook, and follow @BWbschools on Twitter.
Before it's here, it's on the Bloomberg Terminal.
LEARN MORE