Why AB InBev and Big Brewers Are Betting on Hard Cider
The U.S. launch of Stella Artois Cidre appeals to the craft beer and gluten-free crowds
By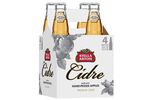 For those who can't get enough of that alcoholic apple juice we call hard cider, here comes more. On May 13, Anheuser-Busch InBev releases Stella Artois Cidre in the U.S., starting in 26 states. A nationwide rollout is planned for early next year. Cidre, pronounced cee-dra, first launched in the U.K. in 2011 and sold about 291,000 hectoliters (or about 247,980 U.S. barrels) at grocery and liquor stores there in the year ended March 30. The company hopes Americans' budding love for cider will help Cidre take off in the U.S.
Why is cider seeing a revival in the U.S.? IBISWorld estimates that while brewers' hard cider sales, which were $601.5 million in 2012, represent about 2 percent of total revenue, they're growing rapidly. Sales increased an average 27.5 percent annually during the last five years. Such numbers don't go unnoticed by big brewers: C&C Group acquired Vermont Hard Cider, MillerCoors bought Crispin, and Heineken added Strongbow to its portfolio.
Brewers say three main groups are driving demand: the young, craft beer crowd; the growing number of consumers avoiding gluten; and women.
Charles van Es, senior director of portfolio brands at Heineken USA, says the company's cider buyers are largely 21- to 29-year-olds who are "adventurous with their beverage selection and drink more craft and upscale beer." The craft beer boom has stirred up curiosity about life beyond Bud.
The perception that cider's healthier should not be underestimated. Says Agata Kaczanowska, an analyst at IBISWorld: "At the core of the movement toward hard cider is the health consciousness of Americans. It is fruit-based, so people associate it with a more positive nutritional value." The gluten-free food movement has given cider a boost, too, because the beverage is naturally gluten free. NPD found that 30 percent of adults claimed to cut down on or avoid gluten completely in January.
As for female consumers, "just like in the white wine category, they are very important," says Rick Oleshak, director of Stella Artois in the U.S. "There's probably more of a female opportunity within the cider category than there is within a high-end European beer."
Rather than being pitched as an alternative to beer, Cidre, which claims to be drier than typical American ciders, will be marketed in the U.S. as an alternative to white wine. AB InBev's only cider product in the U.S. until now was Michelob Ultra Light Cider, which launched in 2012 and currently represents 6.6 percent of the U.S. cider market. "We're trying to reshape the category," says Oleshak. "The opportunity is now."
Cider sales are expected to grow in the next few years, Kaczanowska says, yet it's difficult to tell if the beverage will be a passing fad. Still, she notes, the distribution power of AB InBev, MillerCoors, and Heineken can only help get it in front of more drinkers.
Before it's here, it's on the Bloomberg Terminal.
LEARN MORE