The Best Undergraduate B-Schools for Marketing
Geoff Gloeckler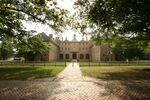 As part of the 2013 Best Undergraduate B-Schools ranking, Bloomberg Businessweek asked undergraduate business students from the Class of 2013 to tell us, via an online survey, about the full range of their business school experience, from getting in to getting a job. One section of the survey singles out specific aspects of the business program and asks the students to grade them on a scale from A to F. Over the next few weeks, we will publish the top 10 B-schools in each of 10 specialty areas, from accounting to entrepreneurship, culminating with publication of the entire undergraduate specialty ranking including 124 schools.
Today we look at marketing. At the top of the list is the College of William & Mary's Mason School of Business.
Within the business curriculum, marketing majors at Mason have a wide variety of both core courses and electives to choose from, including new classes that look specifically at "Creativity & Innovation" and "Sustainability Inspired Design." Both courses are taught in what is called the Design Studio, a teaching space that looks more like an industrial workshop or art studio than a classroom. Students sit on stools at makeshift tables and take notes and brainstorm on rolling whiteboards.
This classroom design reflects the way marketing is taught at Mason. Instead of approaching the area from a traditional textbook/lecture format in the classroom, marketing courses are experiential, with students engaging in semester-long simulations and working on projects with local clients. In the "Marketing Research" course, for instance, students conduct field research for local businesses through focus groups and online surveys, and then present their findings. Recent projects included a look at the market position of a new pub in town, the customer experience at a popular campus coffee shop, and understanding the behaviors of moviegoers.
Outside of class, many marketing students are members of the Student Marketing Association, which hosts industry speakers, consulting projects, job and internship search workshops, and an annual marketing networking trip to New York to visit companies and alumni in the marketing and advertising industries.
Washington University's Olin Business School and the University of Virginia's McIntire School of Commerce round out the top three.
Top Undergraduate Business Schools for Marketing
| | | |
| --- | --- | --- |
| 1. | William & Mary (Mason) | 1.132 |
| 2. | Washington U. (Olin) | 1.153 |
| 3. | Virginia (McIntire) | 1.154 |
| 4. | Pennsylvania (Wharton) | 1.176 |
| 5. | Loyola – Maryland (Sellinger) | 1.177 |
| 6. | Cornell (Dyson) | 1.190 |
| 7. | Florida International (Landon) | 1.207 |
| 8. | Arkansas (Walton) | 1.209 |
| 9. | Elon (Love) | 1.210 |
| 10. | Michigan (Ross) | 1.214 |
Methodology: The ranking is based on student responses to the question asking them to rank their program's marketing offerings. Points are awarded for each response—one point for an A grade through five points for a grade of F—and then averaged for each school. If students did not have exposure to the area in question, they could answer NA, and their response was not included. The ranking is based on the average; schools with the lowest average are ranked the highest. The average marketing score for all 124 undergraduate business schools in the ranking was 1.41.
Join the discussion on the Bloomberg Businessweek Business School Forum, visit us on Facebook, and follow @BWbschools on Twitter.