H&M Pledges to Make Bangladeshi Factories Safer
By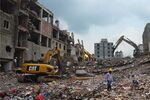 The Rana Plaza in Bangladesh collapsed two weeks ago, killing more than 1,000 garment workers and adding the complex to a grisly list of the world's worst industrial disasters. On Monday, H&M, which has more of its clothes made in Bangladesh than any other apparel company, agreed to sign a legally binding accord to improve fire and building safety there. "With this commitment we can now influence even more in this issue," Helena Helmersson, the head of H&M's sustainability program, said in a statement. "We hope for a broad coalition of signatures in order for the agreement to work effectively on ground." Moments after H&M's announcement, Inditex, which owns Zara and is the world's biggest apparel company, said it would sign, too.
H&M and Inditex are European companies. What about big American brands such as Gap, Wal-Mart, and J.C. Penney? Retailers met with international labor unions in Germany in late April to talk about how the companies could work together. It makes sense for these competitors to set aside business rivalries: Bangladeshi factories often produce clothes for many of them at the same time. At the meeting, they set a May 15 deadline to develop and sign an agreement.
Some smaller companies have been quick to decide how to proceed. PVH, which owns Tommy Hilfiger and Calvin Klein, committed to an earlier deal and has signed this new one, too. Disney, meanwhile, cut Bangladesh out of its supply chain altogether—less than one percent of factories used by Disney contractors are in Bangladesh.
Wal-Mart says it strengthened its fire safety standards in 2012 and is participating in an industrywide effort to train Bangladeshi factory managers about safety issues. "We've nothing to announce right now," Kevin Gardner, a Wal-Mart spokesman, wrote in an e-mail. "Walmart has been advocating for improved worker safety with the Bangladeshi government, with industry groups and with suppliers."
Gap posted a statement on its website May 10 that says the company has its own safety program in place and will "continue to support a multi-stakeholder effort." The company didn't respond to a request for comment. J.C. Penney will "take an active part in the dialogue that aims to come up with a comprehensive approach—that includes multiple stakeholders—to solving the factory safety issues in Bangladesh," Daphne Avila, a company spokeswoman, wrote in an e-mail to Bloomberg News on May 2. She didn't respond to a request to update her comment.