Anthony Chiasson Learns That $68 Million Gets You 6 1/2 Years
Anthony Chiasson goes to prison for insider trading
By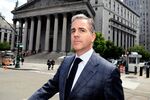 Anthony Chiasson, the co-founder of the hedge fund Level Global Investors, was sentenced to 6.5 years in prison today for illegal trading in two tech stocks. The government had requested a sentence of 8 to 10 years, based on sentencing guidelines, arguing that Chiasson was responsible for more than $68 million in illegal profits to Level Global. In just one series of trades in 2008, Chiasson and his co-conspirators made $53 million on shares of computer maker Dell, in advance of the company's Aug. 28 earnings announcement. Chiasson pleaded not guilty and was convicted in December.
One person likely following the proceedings closely is Michael Steinberg, the SAC portfolio manager charged in March with insider trading, allegedly for making the same trades on Dell at the heart of the Chiasson case. He and Chiasson share the same U.S. District judge, Richard Sullivan. Steinberg's trial begins Nov. 18.
Chiasson co-founded Level Global in 2003 with fellow former SAC trader David Ganek, who made news with his multimillion-dollar art purchases and flashy Manhattan lifestyle. Level was on something of a tear, reaching a maximum of $4 billion in assets, before it was raided in November 2010 by the FBI as part of the government's campaign against insider trading at hedge funds. Chiasson was ultimately undone by his former analyst at Level Global, Spyridon Adondakis, who cooperated with the government and testified against his former boss. Throughout the hearing, Chiasson sat surrounded by his lawyers, chewing gum furiously.
"What I keep coming back to is this crime, these crimes, were committed over a long period of time, over a time when you were already fabulously wealthy," said Judge Sullivan. "I don't know if I've ever sentenced someone as wealthy as you." He added: "It's hard to understand why someone would risk something like that." Chiasson's lawyers, meanwhile, reviewed the many good deeds their client had done in life, his role as a family man with two small children, and the fact that he was an altar boy when he was 8 years old.
When it came time for Judge Sullivan to deliver the verdict, Chiasson, 39, stood up and shoved his hands deep into his pockets, his jaw chomping away the whole time. After informing Chiasson that he would be spending 78 months in prison, Sullivan said: "You conducted yourself with dignity—except for chewing gum."
Before it's here, it's on the Bloomberg Terminal.
LEARN MORE